Product News: Controls & Controllers
Process Control Software is built for usability.
Press Release Summary: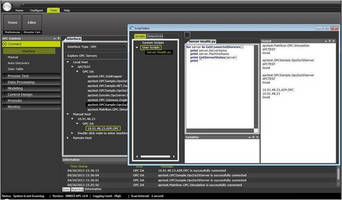 February 18, 2014 - Through its GUI and calculation engine, SimSci APC 2014 shortens plant testing and commissioning schedules and improves plant operations and personnel performance. Solution is structured around natural workflow that includes full support for model case file development and connection wizard for accelerated integration to distributed control system/PLC. Director feature lets control engineer build custom calculations or add custom supporting controller functions that augment user experience.
Original Press Release
Invensys Announces SimSci APC 2014
Press release date: February 10, 2014
Updated advanced process control software shrinks plant testing and commissioning time by up to 50%; improves control and plant performance -
HOUSTON, TEXAS – Invensys, a leading supplier of state-of-the-art industrial software, systems and control equipment to the world's major industries, has unveiled a new version of its SimSci advanced process control software. To be released this spring, SimSci APC 2014 will enable customers to shorten their plant testing and commissioning schedules, as well as improve plant operations and personnel performance.
This innovative offering has been built from the ground up to emphasize ease of use. It modernizes the graphical user interface while retaining the rigorous and robust calculation engine from the company's successful Connoisseur APC offering. The new SimSci APC 2014 software is structured around an enhanced, natural workflow that includes full support for model case file development and a connection wizard for faster integration to any distributed control system and programmable logic controller, including the company's Foxboro I/A Series DCS and its new Foxboro Evo process automation system. The software will be even more tightly integrated in future releases of the Foxboro Evo system as well, providing enhanced simulation capability.
"Advanced process control can result in tremendous improvements in plant efficiency and performance, but it is largely underutilized, in part because some potential users find it too much of a challenge," said Peter Reynolds, senior consultant with the ARC Advisory Group. "Invensys addresses this issue head on, with new graphical interfaces, intuitive workflows and custom calculation engines. Making optimization easier will empower both seasoned APC users and the next generation of engineers and operators to address a wider range of process conditions and business challenges."
SimSci APC 2014 software greatly extends the capabilities of traditional APC offerings to garner more control over the process. Director, a powerful new feature, allows the control engineer to build custom calculations or add custom supporting controller functions that augment the user's experience. Natural workflows speed up model building, configuration and deployment, and additional features make the software suitable for a complete APC project implementation. These advancements help the transitioning workforce more easily build and maintain APC applications, and can cut implementation and commissioning time by up to 50 percent.
"We are excited about our new APC offering, which builds on our market-leading Connoisseur APC software to help our customers enhance quality, increase throughput and reduce energy usage," said Tom Kinney, vice president of Invensys' optimization business. "The software was developed with the end user in mind, and it includes several well-thought-out features that help achieve better and more sustainable control of the process. A built-in auto-discovery wizard captures the specific syntax of any DCS for even faster buildup of tag connections; its automated testing feature means faster, more flexible configuration; its new, tablet ready click-and-drag functionality allows users to select the best models from many scenarios, and customizable user-defined functions improve how users can cope with changing process conditions. The end result is that SimSci APC 2014 provides a better, friendlier and more flexible user experience than traditional APC applications, making operators and engineers far more effective and productive."
For more information about SimSci APC, please visit
http://software.invensys.com/products/simsci/optimize/
.
About Invensys
Invensys, now a part of Schneider Electric, works in partnership with a broad range of industrial and commercial customers to design and supply advanced technologies that optimize their operational performance and profitability. From oil refineries and power stations to mining companies, food and beverage companies and appliance manufacturers, Invensys' market-leading software, systems and controls enable its customers to monitor, control and automate their products and processes, thereby maximizing safety, efficiency, reliability and ease of use. To learn more, visit
invensys.com
.
Invensys, the Invensys logo. Foxboro, Foxboro Evo, I/A Series and SimSci are trademarks of Invensys plc, its subsidiaries or affiliates. All other brands and product names may be trademarks of their respective owners. 
Invensys, c/o Tiziani Whitmyre, 2 Commercial St, Sharon, MA 02067 United States