Product News: Computer Hardware & Peripherals
Printing System automates packing slip/shipping label processes.
Press Release Summary: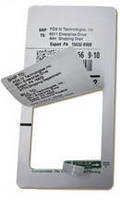 February 28, 2013 - While automating packing slip and shipping label printing, folding, stuffing, and applying, FOX IV TwinPrint™ system also ensures shipping address label matches packing slip. Dual printheads produce shipping information and confidential packing slip on one label. Liner is die-cut such that it remains with label and provides protective, secure adhesive perimeter. Once applied to carton, packing slip information on printed liner benefits from tamper-evident protection during shipping.
FOX IV Technologies, Inc. - Export, PA
Original Press Release
TwinPrint(TM) Packing Slip/Shipping Label Printing System
Press release date: January 10, 2013
FOX IV Technologies, Inc.'s Shipping Solution
EXPORT, PA — The patented FOX IV TwinPrint system puts an end to printing, folding, stuffing and applying packing slips and shipping labels by hand. FOX IV automates the entire process while ensuring that the shipping address label always matches the packing slip.
Designed for distribution and fulfillment centers, the FOX IV TwinPrint System consists of a family of printers and printer applicators with two printheads to print both the shipping information and a confidential packing slip on a single label. The shipping address is printed on the top label; the packing slip is printed on the label liner. The liner is die-cut such that it remains with the label and provides a protective secure adhesive perimeter around the label.
Once applied to the carton, the packing slip information on the printed liner remains confidential and provides tamper-evident protection during shipping. The packing slip is accessed by simply tearing a zipper strip.
EFFICIENT – EFFECTIVE – SUSTAINABLE
EFFICIENT – the TwinPrint system combines two processes – the packing slip process and shipping label process – into one. The TwinPrint printer applicator automates the entire process.
EFFECTIVE – the TwinPrint system guarantees that the shipping address information and packing slip information match.
SUSTAINABLE – the TwinPrint system repurposes the label liner as the packing slip. The TwinPrint system eliminates the traditional packing slip and the plastic envelope from the waste stream.
Malin, Integrated Handling Systems and Design – a division of Raymond and one of FOX IV's partners, installed a complete warehouse automation system at Advocare – a premier health and wellness company. The system included the TwinPrint print and apply system. The attached video link demonstrates the system and shows the TwinPrint in operation.
www.youtube.com/watch?v=MhyuACIG7Jo
FOX IV Technologies, Inc., offers a full line of label printers and applicators, ribbons, labels, enclosures, printing supplies and services, material handling equipment and software solutions in order to provide fully integrated turnkey automated identification systems.  The company integrates more than 25 tabletop printers and OEM print modules into rugged label printer applicators capable of operating 24/7 in a wide variety manufacturing environments.  Known internationally for innovative designs, quality construction and customized solutions, FOX IV is located approximately 20 miles east of Pittsburgh, PA.
For more information the FOX IV TwinPrint™ Printer-Applicator:
http://foxiv.com/products/custom-integration/turnkey-systems/twinprint-system---packing-slip-shipping-label.php
|
www.foxiv.com