Product News: Sensors, Monitors & Transducers
Pressure Transducers are resistant to internal ice damage.
Press Release Summary: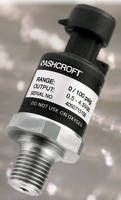 December 17, 2013 - Media isolation method for G2, T2, and KM15 pressure transducers prevents formation of ice inside inlet cavity and subsequent destruction of sensing element. Along with consistent performance in temperature extremes, transducers withstand such harsh operating conditions as shock and vibration. Choice of pressure ranges, outputs, electrical terminations and process connections are available to accommodate any installation.
Original Press Release
Pressure Transducers Resists Internal Ice Damage
Press release date: December 12, 2013
It only takes a small formation of ice deep inside the inlet cavity of a pressure transducer to destroy the sensing element. To prevent this, Ashcroft engineers have developed a unique media isolation method for the G2, T2 and KM15 pressure transducers. Along with consistent performance in extreme temperatures, these transducers are designed to withstand other harsh operating conditions, including high shock and extreme vibration. A wide choice of pressure ranges, outputs, electrical terminations and process connections help make them the perfect fit in nearly any installation.
Ashcroft Inc.
250 East Main Street
Stratford, CT 06614-5145
(203) 378-8281
1-800-328-8258
www.ashcroft.com
Ashcroft Inc. manufactures gauges, thermometers, switches, transducers, transmitters, data loggers, calibration equipment and isolators for pressure measurement, monitoring and control. Product brands include Ashcroft, Heise, WillyTM and Weksler. As a global provider, Ashcroft Inc. maintains a network of manufacturing facilities, sales offices and distributors worldwide. The company's website can be accessed at
www.ashcroftinc.com
. Copyright 2005 Ashcroft Inc. All rights reserved.