Product News: Machinery & Machining Tools
Press Brake is suited for production of small bent parts.
Press Release Summary: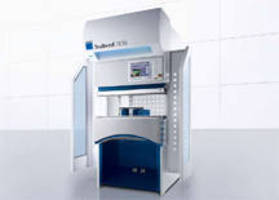 May 21, 2009 - Designed for parts no larger than 12 x 12 in., ergonomically designed, compact TruBend Series 7000 is suited for sheet metal parts used in production of vending machines and electrical equipment as well as in telecom and aerospace industries. Bending speed can be increased by adjusting back gauge and beam, while gas spring supported pedals enable height and foot rest angle adjustment. Back gauge is made with lightweight carbon fiber with hardened steel contact surfaces on fingers.
Original Press Release
TruBend Series 7000 Press Brakes: Compact, Efficient and Ergonomically Enhanced
Press release date: May 13, 2009
FARMINGTON, Conn., May 13, 2009 - TRUMPF's TruBend Series 7000 precision press brake, the most popular press brake the company has ever launched in Europe, is now available in North America. The TruBend Series 7000 is a compact machine that offers a high-quality, efficient solution for the production of small bent parts. It is ideal for parts no larger than 12" x 12". Typical applications include sheet metal parts used in the production of vending machines and electrical equipment as well as in the telecommunications and aerospace industries. Bending such parts with large, heavy press brakes is typically inefficient because of the space and energy requirements involved. A feature of the TruBend Series 7000 includes the ability to increase its bending speed simply by making adjustments to the machine parts relevant to the bending process: the back gauge and the beam. The back gauge is made with lightweight carbon fiber, and the surfaces on which the bent part contracts the fingers of the back gauge are made of hardened steel. These design features enable the TruBend Series 7000 to set new standards for achieving accurate results. In addition, the torque motor, which drives the beam, can deliver power even at low speeds. It ensures rapid axis movements and is low maintenance, since it has no gears and, therefore, needs no gear oil. The TruBend Series 7000 also features enhanced ergonomics. Optimum working conditions and user-friendly operating elements are integrated into the machine design. The operator can control the machine while sitting down and work without becoming fatigued, which helps ensure the quantity and quality of the fabricated parts. Gas spring supported pedals allow the height and angle of the foot rests to be adjusted. The arm support is also adjustable in height, so that every operator can set up his or her workplace individually. In addition, the monitor for the TASC 6000 control system of the TruBend Series 7000 can be adjusted electronically and set to the appropriate angle. Optional TRUMPF LED lighting, tried and trusted in medical technology, illuminates the area in front of and behind the beam, ensuring correct lighting conditions precisely at the bend, without heat radiation. A laser diode also projects the bend line onto the surface of the sheet metal, simplifying the accuracy of guiding the workpiece into the back gauge. TRUMPF is one of the world's largest producers of fabricating machinery and a world market leader in lasers used for industrial production technology. Additional company information is available at:
www.us.trumpf.com
. TRUMPF Inc. Public Relations Farmington Industrial Park Farmington, CT 06032 Melanie McMillan 860-255-6112 Fax: 860-255-6424 Melanie.McMillan@us.trumpf.com