Product News: Material Handling & Storage
Precision Rotation Stage serves high-torque applications.
Press Release Summary: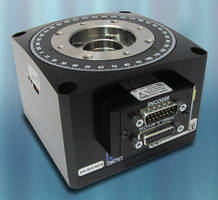 December 7, 2012 - Developed to accelerate loads having higher rotational inertia, RGV100HL employs direct-drive technology and is compatible with XPS-DRV02 driver. Precision glass scale encoder ensures 0.0003° repeatability and 0.0001° min incremental motion, while brushless DC torque motor with rare earth magnets optimizes available torque to deliver rapid point-to-point motions. Integrating bearings with motor, stage has footprint of 115 x 115 mm and offers 360° travel with 0.01° on-axis accuracy.
Original Press Release
Newport Introduces RGV100HL, a High-Speed Precision Rotation Stage for High Torque Applications
Press release date: December 3, 2012
Irvine, CA – Newport Corporation, a worldwide leader in laser and photonic solutions that Make, Manage and Measure Light®, introduces the compact and high torque RGV100HL high-speed precision rotation stage.  Developed to accelerate loads having higher rotational inertia, the new stage is compatible with Newport's XPS-DRV02 driver.  The RGV100HL provides the same high resolution and outstanding positioning performance as Newport's legacy RGV100BL precision rotation stage while delivering 3X the torque and 5X the acceleration.

Direct-drive technology provides faster rotating speeds with superior reliability and enhanced positioning sensitivity. By integrating the bearings with the motor, the stage's footprint is only 115 mm x 115 mm. A precision glass scale encoder guarantees 0.0003 degrees repeatability and 0.0001 degree minimum incremental motion. The brushless DC torque motor with rare earth magnets optimizes the available torque to deliver extremely rapid point-to-point motions.  Other features include 360-degree travel with 0.01° on-axis accuracy, a proprietary 4-point contact ball bearing design, and a 30-mm diameter through-hole for easy routing of cable and vacuum lines.

The robust RGV100HL is ideal for demanding applications requiring fast dynamic response and for tasks that require moving larger platens.  It is perfectly suited for semiconductor wafer inspection and metrology, laser micromachining, micro-robotics, motion simulators, rate tables and simulators, sensor calibration, and MEMs production.

For more information about Newport's new higher-torque, high-speed RGV100HL precision rotation stage, please visit:  http://www.newport.com/RGV100HL.

About Newport Corporation
Newport Corporation is a leading global supplier of advanced-technology products and systems to customers in the scientific research, microelectronics manufacturing, aerospace and defense/security, life and health sciences and precision industrial manufacturing markets.  Newport's innovative solutions leverage its expertise in high-power semiconductor, solid-state and ultrafast lasers, photonics instrumentation, sub-micron positioning systems, vibration isolation, optical subsystems and precision automation to enhance the capabilities and productivity of its customers' manufacturing, engineering and research applications.  Newport is part of the Standard & Poor's SmallCap 600 Index and the Russell 2000 Index.

Company Contacts:
Pete Neely
Director, Marketing Communications
Tel: 800-222-6440 / +1 949-863-3144
E-mail: pete.neely@newport.com

Beda Espinoza
Sr. Manager, Motion Products
Tel: 949-253-1247
E-mail: beda.espinoza@newport.com