Product News: Electrical Equipment & Systems
Pre-Insulated Connectors serve space-constrained applications.
Press Release Summary: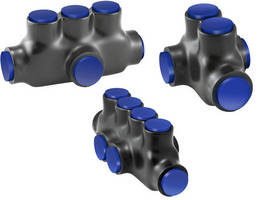 February 5, 2013 - Available in X, T, and L configurations (shapes), NIMBUS®4FLEX connectors are dual rated for copper or aluminum conductors and help solve space-constrained wiring issues when working in small control panels or wiring troughs. Products accept building code as well as fine stranded conductor and come in 2-, 3-, and 4-port designs. Screw design renders these UL-Listed, CSA-Certified, and RoHS-compliant connectors reusable.
Original Press Release
Introducing NIMBUS®4FLEX Shapes
Press release date: January 28, 2013
Cincinnati, OH – ILSCO is pleased to announce an exciting enhancement to its NIMBUS®4FLEX line of pre-insulated connectors.  Three new configurations (shapes) have been added to the line and include an X, T, and L.  With the exclusive and unique configurations of these new "shapes", NIMBUS®4FLEX now has the greatest flexibility of any pre-insulated connector series on the market today.

These new configurations will solve many of your space constraint wiring issues when working in small control panels or wiring troughs.  No need to stock two products, the NIMBUS4FLEX offering accepts building code as well as fine stranded conductor.  Configurations currently available include 2, 3, or 4 port design and come standard with ILSCO's patented screw design which means the product is reusable. The entire line of NIMBUS connectors are UL Listed, CSA Certified, RoHS Compliant and dual rated for copper or aluminum conductors.

Applications for NIMBUS®4FLEX include motor leads, control panels, wiring trough, industrial and commercial construction.

Media Contact:
Cheryl Hennessy
4730 Madison Road
Cincinnati, OH 45227-1426
chennessy@ilsco.com
800.776.9775
www.ilsco.com