Pre-Hardened Tool Steel Grades simplify mold/tool production.
Press Release Summary: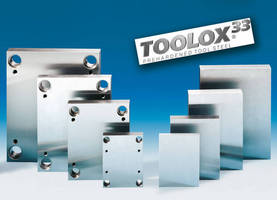 May 21, 2010 - Toolox® 33 tool steel grades are available as K20 plates that allow mold plate machining in one process/setup, as well as P and K252 plates. Products have metallurgical properties that correspond to 1.2311 with machinability better than 1.2312. Suitable for etching, high gloss polishing, and welding, structure of grades does not require stress relieving after machining. Incorporated holes allow plates to be clamped onto HASCO Clamping Fixture A8001, minimizing machine setup times.
Original Press Release
Toolox33 - The New Generation of Tool Steel
Press release date: May 11, 2010
Toolox 33 - now also available in P, K20 and K252

HASCO now offer modern TOOLOX® tool steel grades as an alternative to the conventional plastic mould steel materials.

The advantages of the TOOLOX steel grades are highly valued, not only in mouldmaking, but also in the production of high-quality tool and machine components.

Toolox33 is a pre-hardened and tempered tool steel with metallurgical properties that correspond to 1.2311, but with machinability that is superior to 1.2312. Due to the special CSR casting process, the homogeneity of the Toolox33 structure offers ESR properties, and is suitable for etching, high gloss polishing and welding.

With a low stress structure Toolox33 does not require stress relieving after machining, and it's low distortion makes it possible in many cases to heavy machine directly in a K20 with included system guide holes.

The incorporated system holes reduce the actual production work and allow the plate to be directly clamped onto the HASCO Clamping Fixture A8001, considerably reducing machine set-up times. The material properties of Toolox33 also allow faster machining and higher mould service life. For extreme machining or tighter tolerance projects, HASCO can also offer the K252 grade with machining allowances in the system bores.

The cost and time-intensive low-stress annealing is superfluous, as is post-finishing with expensive sanding and grinding process. Finish milling is greatly reduced because tighter production tolerances can be targeted with heavier cuts than normal. Toolox as K20 with system bores now offers the possibility to finish the machining of the mould plate in one process / set up.

Available as P/..., K252/... and K20/.... plates, the mould builder has a huge range of plates at his disposal, allowing him to significantly reduce throughput times thus lower costs.