Product News: Material Handling & Storage
Powered Hand Trucks enhance worker safety and productivity.
Press Release Summary: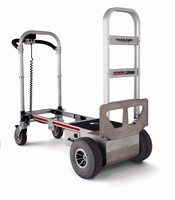 November 8, 2006 - Featuring 1,000 lb capacity, Powered Gemini hand trucks feature 750 W direct drive motor that runs in forward and reverse at up to 4 mph and is powered by sealed, rechargeable battery. Trucks include nitrogen-inflated pneumatic tires, 2 industrial-grade casters with brakes, and 2 non-marking wheels with sealed, semi-precision bearings. Folding containment arm keeps loads in place during transport. Four-wheel truck is convertible to 2-wheel hand truck.
Original Press Release
Magline Launches Powered Gemini®, Industry's First Powered Convertible Hand Truck
Press release date: October 23, 2006
Latest Innovation Increases Safety and Productivity
PINCONNING, Mich. - (October 23, 2006) - Magline, the leading provider of innovative route distribution solutions, today announced the launch of Powered Gemini, the first powered convertible hand truck. This advanced new product significantly reduces stress on users while increasing the safety and productivity of professional delivery routes. With the launch of Powered Gemini, Magline continues to deliver market leadership and innovation focused on building its customers' business.
Powered Gemini reduces user fatigue and increases worker safety and productivity by nearly eliminating pushing and pulling of loads. It supports larger, more stable loads, which enable fewer trips and faster delivery times. Its nitrogen-inflated pneumatic tires, another industry first, stay inflated six times longer than air-filled tires, thereby reducing maintenance and increasing up-time.
"Powered Gemini is another example of how Magline is leading the market by providing a variety of innovative solutions that help our customers succeed," said Kirk Wheeler, director of sales and marketing, Magline, Inc. "Magline is expanding distribution options for all segments of direct store delivery."
By reducing physical stress on users, Powered Gemini can contribute to better quality of work life for users, lower driver turnover, reduce workers' compensation claims, and expand opportunities for a more diverse workforce. Ergonomic studies show that compared to a non-powered product, 19 times less force is needed to start rolling a load with a Powered Gemini. The improved load stability of the product can help reduce product damage and, in some situations, allows users to stack up to 25 percent more product per load, reducing overall delivery time. The time saved can be used to merchandise product, provide customer service, make more stops and possibly reduce the number of overall routes. In field tests, the product proved to be especially useful for tougher routes that include long distances, inclines, or rough terrain.
"Powered Gemini essentially eliminates four-wheel hand truck pushing and pulling requirements," said Marty Dagostino, MS, CPE, Ergonomic Solutions. "Any application that effectively and efficiently reduces physical demands and activities associated with manual manipulation tasks is worth its weight in gold."
Full-Featured Solution Delivers Quality and Value Powered Gemini uses a direct-drive motor to assist users while the truck is in the four-wheel position. The four-wheel truck, which has a capacity of 1,000 pounds, can be converted easily to a two-wheel hand truck and back again. The powerful 750-watt motor runs in both forward and reverse direction at up to nearly 4 miles per hour and is powered by a sealed, maintenance-free, rechargeable battery. In addition, the product includes a folding containment arm to help keep loads in place during transport.
The product includes two industrial-grade casters with brakes and two non-marking wheels with sealed, semi-precision bearings for improved maneuvering and account service. A wrapped ergonomic handle provides grasping comfort and efficiency, and a rubber bumper protects users' legs.
Powered Gemini is available in both Jr. and Sr. versions through select authorized Magliner dealers. More information is available by contacting Magline directly.
About Magline, Inc. Founded in 1947, Magline, Inc. manufactures a complete line of innovative lightweight route distribution solutions under the Magliner brand. Magliner solutions are used in the beer, soft drink, food service, parcel delivery, home healthcare and other distribution industries. For a Magliner product catalog, contact your local Magliner dealer, visit
www.magliner.com
, or call 800-MAGLINE (800-624-5463).