Product News: Electrical Equipment & Systems
Power Supply Units offer high power in compact, 1U package.
Press Release Summary: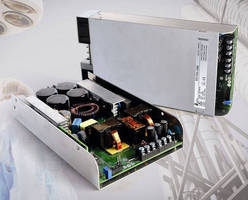 May 29, 2014 - Able to achieve 92% efficiency, XSolo series includes convection-cooled, 504 W open-frame U-channel form-factor model (6.8 W/cu.in.) and enclosed, fan-cooled chassis model that delivers up to 1,008 W (13.6 W/cu.in.). Max dimensions are 40 x 238 x 128 mm, and safety certifications of these MIL-810 and SEMI F47 compliant, 1U, single-output switching PSUs include EN60950 and EN60601-1. Standard features include variable fan speed, 12 V/300 mA isolated bias supply, and remote ON/OFF.
Original Press Release
Excelsys XSolo PSUs Offer Highest Power Density in Compact 1U Package
Press release date: May 19, 2014
Market-leading power density offered in 500W convection-cooled and 1 kW fan-cooled models; EN60950 & EN60601-1 certified; MIL-810 and SEMI F47 compliant; up to 92% efficiency; five-year warranty
Cork, Ireland—Excelsys Technologies, recognized as a technology leader in high-efficiency modular power supply design, announces the introduction of its new XSolo family of 1U-high, single-output switching power supply units (PSUs).
The XSolo family is offered in a market-leading, convection-cooled 504W open-frame U-channel form-factor model (6.8 W/cu.in.) and an enclosed, fan-cooled chassis model that delivers up to 1008W (13.6 W/cu.in.). Capable of achieving 92% efficiency, these ultra-compact and rugged PSUs meet the exacting requirements of medical, industrial, IT and military COTs applications. Additionally, both models carry a five-year warranty.
The XSolo family features dual safety agency certification: EN60950-1 for industrial applications and EN60601-1, 2nd and 3rd edition for medical applications—fully meeting the stringent creepage and clearance, 4kV a.c. isolation and <300uA leakage current requirements. The XSolo family also meets the voltage dip and interruption requirements of SEMI F47, as well as the environmental conditions per MIL-STD-810. In addition, the products are compliant with all relevant EMC emission and immunity standards.
The XSolo platform offers system integrators with a host of standard features, including variable fan speed, 12V/300mA isolated bias supply, remote ON/OFF, output voltage control and parallel operation for higher power applications. Nominal output voltages are 24V and 48V with wide adjustment ranges and user-defined setpoints.
Maximum dimensions are 40mm(1U) x 238 mm x 128mm.
"Our XSolo modular power supplies provide the range of features and options that systems integrators require," said John Stevenson, Excelsys' North American VP. "Their compliance with a wide range of standards also helps simplify product selection and improve inventory control."
Optional features include I2C for PMBus™ communications and ORing diodes for N+1 redundancy. The power supplies are also available with conformal coating and can be ruggedized for use in harsh environments. With convection-cooled power capability of over 500W, XSolo PSU's are ideal for use in Hi-Rel MIL-COTS applications as well as sensitive acoustic laboratory and medical equipment.
For more information, please contact Excelsys at: (972) 771-4544 or visit
www.excelsys.com
Price: $254.00 (500W); $299.00 (1kW) – base price in OEM quantities 
Delivery:  In-stock
About Excelsys
Excelsys Technologies Ltd. is a modern and progressive power supply company providing quality products to OEM equipment manufacturers around the world. Excelsys has achieved its world-class standing by combining the latest technology, management methods and total customer service philosophy with a 20-year tradition of reliable and innovative switch mode power supply design, manufacture and sales.
Company Contact:
John Stevenson • VP, North America
Excelsys Technologies, Ltd.
Direct: (972) 771-4544
johnstevenson@excelsys.com
www.excelsys.com
Agency Contact:
Greg Evans • Acct. Exec.
WelComm, Inc.
Direct: 858-633-1911
greg@welcomm.com
www.welcomm.com