Product News: Electrical Equipment & Systems
Power, PCB, and Latching Relays come in several current ratings.
Press Release Summary: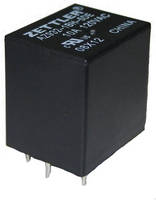 April 4, 2014 - Miniature power relay AZ2150 , miniature PCB relay AZ932, and latching power relay AZ2501L target lighting industry applications. While AZ2150 is available with 20 A @ 120/277 Vac rating and NO contact, AZ932 is offered with 8.3 A @ 120 Vac and 3.8 A @ 277 Vac ratings with NC contact. Along with 16 A @ 120/277 Vac (NO contact) for magnetic and electronic ballasts, AZ2501L offers 16 A @ 347 Vac rating for magnetic ballasts.
Original Press Release
Lighting Remains "a Bright Spot" with New Ballast Ratings on American Zettler Relays
Press release date: March 26, 2014
Aliso Viejo, CA -- American Zettler is continuing to make 2014 a defining year by announcing a host of new ratings on relays targeted at the lighting industry. Zettler established a trend when founder Alois Zettler orchestrated the first outdoor lighting show for King Ludwig II in 1884. Coupling his light show with music, he created a new future for entertainment...and lighting! With a lighting resume that dates back more than a century, it should come as no surprise that even today, American Zettler remains on the forefront of relay design for the industry.
Responding to customer demands and the requirements from an ever changing industry, AZ has not only improved ratings on relay industry mainstays, like the AZ2150, but we have also accelerated the development of new relays including the AZ2501L. Here is just a taste of what's new:    
AZ2150  : 20A @ 120/277VAC (NO contact), electronic ballast.
AZ932  : 8.3A @ 120 VAC, 3.8A @ 277 VAC (NC contact), electronic ballast.
AZ2501L  : 16A @ 120/277 VAC (NO contact) for magnetic and electronic ballasts, 16A @ 347 VAC for magnetic ballasts.
To tap into Zettler's rich history in the "brightest" industry, contact your local sales representative or email us directly at
sales@azettler.com
.
About American Zettler, Inc.
Headquartered in Aliso Viejo, Calif., American Zettler, Inc. produces over fifty different types of relays to meet the many requirements of commercial and industrial applications. Because of their high reliability, American Zettler relays are used in a wide range of demanding applications including telecommunication and security systems, computer peripheral and office automation equipment, home appliances, lighting, test and measurement devices, industrial controls and many other types of electric and electronic equipment. Additionally, American Zettler works closely with a computerized distribution network with stocking facilities in virtually every major industrial area in the world. For more information, please visit
www.azettler.com
.
© Copyright 2014 American Zettler, Inc.. All rights reserved.