Product News: Test & Measuring Instruments
Power/Energy Datalogger integrates 67 x 55 mm backlit LCD.
Press Release Summary: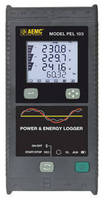 October 24, 2012 - Designed for load center panel installation, PEL 103 single-phase, 2-phase (split-phase), and 3-phase (Y, Δ) power/energy datalogger records, captures, and analyzes data every second. Unit can measure and record 3 voltage inputs and current inputs, Watts, VARS, VA, and energy as well as calculate power factor, displacement power factor, crest factor, frequency, and THD. Measurement and calculation is also possible for harmonics up to 50th order for 50/60 Hz and 7th order for 400 Hz.
Original Press Release
CAS DataLoggers Introduces New Power/Energy Logger with Display
Press release date: October 23, 2012
One, Two and Three-Phase Logger Samples Once Every Second

CHESTERLAND OH–CAS DataLoggers has teamed with AEMC Instruments to announce the new PEL 103 Power and Energy Data Logger, a one, two (split phase) and three phase (Y, Δ) logger with integrated display. Perfect for electricians, engineers and contractors working in building or system monitoring/upgrading and residential energy audits, the new logger records, captures and analyzes all vital energy data once a second to identify power issues with electrical equipment, realize energy savings, track occupants for energy costs, and more applications. Currently-recorded data is prominently displayed, and with the FREE configuration software, users can produce reports with only minimal time and effort. CAS DataLoggers anticipates stocking these loggers in inventory shortly and will also provide free technical support to help customers to quickly get started with their projects.

The data logger's 67x55mm backlit LCD display features adjustable brightness and contrast and shows measurement values, units, and a phase indicator. Navigation is easy using the information display bar, mode selection, and bar graphs showing load factor Min/Max and also indicates the percentage of full range or full load as programmed into the datalogger using the included software. A durable carrying case protects the logger from accident and harsh environments.

The PEL 103's slim design enables it to be easily installed in a load center panel along with all current sensors and still close the door on most panels. The logger also automatically recognizes all connected current sensors. The new model offers all the essential functions for logging power and energy data from most common electrical power networks in use, measuring and recording three voltage inputs and current inputs, Watts, VARS, VA and energy (kWh and kVA). The data logger also records and calculates power factor, displacement power factor, crest factor, frequency and Total Harmonic Distortion (THD). The logger also enables measurement, calculation and display of the harmonics up to the 50th order for 50/60 Hz and 7th order for 400Hz.

All power and energy variables are recorded and stored at a one second interval and on user-selectable demand intervals from 1x/ minute to 1x/hour. Energy costs can be calculated and displayed quickly and easily just by specifying the unit cost for a kilowatt hour. Data is stored on a removable SD card and can also be retrieved using a USB, Bluetooth and/or Ethernet (local or internet) connection or transporting the SD card back to the downloading PC.

The new power&energy logger comes with FREE DataView® setup software providing fast configuration and the ability to view and retrieve data from several hundred PEL devices on a local network or over the internet. Using DataView®, users can evaluate energy usage on a department or facility basis from anywhere in the world. DataView® also enables viewing of real-time measurements and stored data downloads for analysis and report generation.

For more info on the new AEMC PEL 103 Power and Energy Logger with integrated display, additional current/voltage/power data logging products, or to find the ideal device for your application-specific needs, contact a CAS Data Logger Applications Analyst at (800) 956-4437 or visit the website at www.DataLoggerInc.com. Contact Information: CAS DataLoggers, Inc. 12628 Chillicothe Road Chesterland, Ohio 44026 (440) 729-2570 (800) 956-4437 sales@dataloggerinc.com

www.dataloggerinc.com