Product News: Electronic Components & Devices
Power Block features oversized wire openings.
Press Release Summary: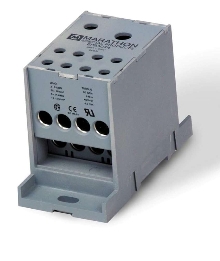 November 29, 2004 - European-style IEC Power Block line is molded in gray thermoplastic and has dual dovetail sides for ganging multiple poles. It can be mounted on DIN rails or panel mounted, and oversized wire openings accept stranded wire and facilitate wire insertion. Openings are rated for multiple wire combinations, allowing power block to be used in applications such as HVAC, material handling equipment, automation controls, motor control, and switchgear.
Marathon Special Products, A Regal-Beloit Company - Bowling Green, OH
Original Press Release
Marathon Special Products Announces a New IEC Enclosed Power Block Line
Press release date: November 18, 2004
November 18, 2004, Bowling Green, OH - Marathon Special Products (MSP), a Subsidiary of Marathon Electric Manufacturing Corporation, recently introduced a new International Electrotechnical Commission (IEC) European-style Enclosed Power Block line. The IEC Power Block offers unique features including oversized wire openings to accept stranded wire and provide ease of wire insertion. The wire openings are approved and rated for multiple wire combinations. This allows the IEC Enclosed Power Block to be used in a variety of applications such as HVAC, material handling equipment, automation controls, motor control and switchgear. Designed with cost savings and flexibility for the customer, the IEC Power Block can be mounted on DIN rails or panel mounted. According to Bruce Golen, Project Engineer, Marathon Special Products, "We designed this product line to meet the customers needs. Our customers are looking for safe products, the option to use larger diameter flexible wire, and easier mounting with interlocking capabilities. The industry is changing to European standards for safety where products are covered in such a manner that a person can not touch the electrical connector with their fingers. We are eager to supply our customers with the benefits of the IEC Power Block." The new blocks are molded in gray thermoplastic like most European industrial electrical products and feature dual dovetail sides for ganging multiple poles. Aluminum and copper connectors are available in all four models. IEC Enclosed Power Blocks combine proven wire termination methods with the safety of European touch-proof design, reducing the chance of maintenance personnel getting electrocuted. For over 50 years, Marathon Special Products has manufactured high quality terminal blocks and fuse holders, which provide interconnection and circuit protection of electrical systems. In 1994, Marathon Special Products became the first terminal block manufacturer in North American to be ISO 9002 certified, and in 2003, they became ISO 9001 certified. MSP markets products to Original Equipment Manufacturers (OEMs) and Electrical Panel Builders. In addition, Marathon Special Products reach their customers using a broad network of Electrical/Electronic Distributors. Founded in 1913, Marathon Electric Manufacturing Corporation, a Subsidiary of REGAL-BELOIT Corporation, manufactures electric motors and generators. They have one of the broadest product lines in the motor industry, providing 1/12 through 1000 HP, with thousands of motor configurations in single phase, three phase, multi-speed, inverter duty, hazardous location, severe duty, medium voltage and PMDC. Marathon Electric generators from 5 kw to 4 MW power industrial, agricultural, marine, military and transportation applications worldwide. REGAL-BELOIT CORPORATION is a leading manufacturer of mechanical and electrical motion control and power generation products serving markets throughout the world. REGAL-BELOIT is headquartered in Beloit, Wisconsin, and has manufacturing, sales, and service facilities throughout the United States, Canada, and Mexico and in Europe and Asia. For more information, please contact: Laura Widman Marketing Coordinator Phone: 419-352-8441, Ext. 212 Fax: 419-352-0875 Email: marketing@marathonsp.com Website:
www.marathonsp.com