Product News: Sensors Monitors & Transducers
Position Sensor works in harsh environmental conditions.
Press Release Summary: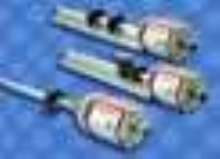 November 24, 2004 - R-Series digitally-based smart sensor includes diagnostic LEDs and provides multiple methods for external and remote field programmability. Available with analog and digital serial outputs, magnetostrictive position sensor features shock- and vibration-resistant packaging as well as reverse polarity and over-voltage protection to 36 Vdc. Product offers sensing resolutions down to 1 micron with output linearity of ±0.01% and repeatability of ±0.001% FS.
MTS Systems Corp, Sensors Div. - Cary, NC
Original Press Release
MTS Develops Next Generation Position Sensor for Temposonics® Family
Press release date: September 30, 2004
New R-Series "smart" sensors deliver the highest Temposonics® performance...
GARY, N.C. (September 30, 2004) - MTS Sensors recently unveiled the new R-Series sensor as the latest innovation in the Temposonics® family of magnetostrictive position sensors. The next generation R-Series is a digitally-based "smart" sensor featuring enhanced output capabilities and improved sensing performance & accuracy. The new R-Series also includes the diagnostic LEDs and external programming capabilities standard in the new product platform to ensure that sensor installation and troubleshooting efforts are kept to a minimum.
MTS developed the new R-Series based on its next generation Temposonics product hardware platform to ensure the highest available level of reliability and durability under harsh environmental conditions. Featuring a reduced electronics envelope, the compact R-Series is now available with a full line of analog and digital serial outputs for non-contact sensing in linear and absolute measurement applications.
"The R-Series is our top-of-the-line product in terms of performance, accuracy and capabilities," said Temposonics Marketing Manager, David Edeal. "Using the new hardware platform we are able to provide improved performance, additional features with significant benefits, and better reliability and durability all in a smaller package and no additional cost to the customer. The R-Series answers our customers' call for enhanced performance and functionality - all at a lower cost-of-ownership."
Red and green LED indicators located directly on the sensor may be monitored for errors such as magnet not detected, missing external interrogation signals, insufficient or out of range input power, and other maintenance issues that consume both time and money for customers. These diagnostic features provide plant engineers with enhanced methods for troubleshooting and commissioning in the field without having to remove the sensor, thereby lowering; the total cost for the sensors. List pricing for the R-Series sensor starts at $622.00.
The advanced R-Series electronics provide better accuracy, EMI immunity, and signal to noise performance in harsh electrical environments. Users can expect sensing resolutions as low as 1 micron with an output linearity of ±0.01% and repeatability of ±0.001% of full scale. Reverse polarity and over-voltage protection to 36 Vdc will help ensure sensor failure does not occur due to mis-wiring. Enhanced packaging also offers improved shock and vibration resistance (shock-100g; vibration-25g/10-2,000Hz) to ensure that the R-Series is rugged and reliable even in the most demanding motion control applications.
In addition, the R-Series is designed with built-in diagnostics and offers multiple methods for external and remote field programmability to reduce installation time and cost. In-line pushbutton or PC software programming may be accomplished using a simple serial communications link. Monitoring can be done at a remote location via the user-friendly PC user-interface software.
For more information on Temposonics R-Series Sensors, please contact: MTS Systems Corp, Sensors Division, 3001 Sheldon Drive, Gary, NC 27513. Phone: (919) 677-0100. E-mail: displacement@mtssensors.com or visit their web site at
www.mtslinearsensors.com
.
MTS Systems Corporation is the world leader in magnetostrictive linear displacement technology. MTS Systems Corporation is a global operation, with facilities in the U.S., Germany and Japan. In the U.S., the MTS Sensors Division has an ISO 9001 facility manufacturing rugged and reliable Temposonics position sensors as well as the highly repeatable and accurate Level Plus transmitters and gauges. With a strong commitment to research and development, product quality and customer service, the Sensors Division is constantly seeking ways to bring the highest value to customers.