Product News: Test & Measuring Instruments
Portable Ultrasonic Meter measures flow and heat as needed.
Press Release Summary: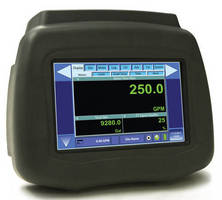 December 22, 2011 - Offering response times of 20 msec and faster, DXN is built on hybrid metering technology that automatically switches, as needed, between transit time and Doppler modes. Features include 7 in. color touchscreen, ability to store site-specific settings using plain text, and software interface that adapts to user requirements. Built on hardware platform that leverages micro-processing and DSP, meter enables flow measurement to be up and running on job site in under 5 min.
Original Press Release
Dynasonics Introduces DXN Portable Flow Meter
Press release date: December 1, 2011
Racine, WI, USA: Dynasonics, a division of Racine Federated Inc., announces the launch of the new DXN portable ultrasonic flow and heat meter.
"The DXN represents a new generation in portable ultrasonic flow measurement," said John Erskine, VP of Sales & Marketing, "built on innovative hybrid metering technology that automatically switches between transit time and Doppler modes, as needed. The DXN also includes unique one-of-a-kind features like a 7" full color touch-screen, the ability to store site-specific settings using plain text, and an advanced software interface that adapts to the needs of our customers."
Built on a truly unique, rugged hardware platform that leverages modern micro-processing and digital signal processing, and inspired by the latest user interface advancements in consumer electronics, the DXN ushers in a new era for portable ultrasonic measurement. "With extremely rapid response times on the order of 20 milliseconds and faster, DXN can handle some of the toughest applications out there," said Erskine, "all through the most user-friendly interface in the industry. You can have reliable, repeatable flow measurement up and running on the job site in less than five minutes."
DXN is currently available in a variety of kit configurations, from a basic kit that includes two sets of transit time transducers, cabling and a convenient compact carrying case, all the way up to a complete kit that includes transit time, Doppler, RTD and wall thickness gauge, and is priced highly competitively. More DXN product information can be found on the Dynasonics website at
www.dynasonics.com
Racine Federated, founded in 1970, is a privately held Racine, Wisconsin based manufacturer of flow meters and internal concrete vibrators. With operations in Wisconsin and Thetford, United Kingdom, Racine Federated's flow meter line-up includes offerings in variable area, turbine, ultrasonic, vortex shedding and differential pressure meters marketed under the Hedland, Flo-tech, Blancett, Dynasonics, Racine Vortex and Preso brands. For further product information see individual web site links at http://www.racinefed.com/flow.
Media Contact: Bill Wagner marketingemail@racinefed.com 262-639-6770