Portable Tool confirms correct rupture disc installation.
Press Release Summary: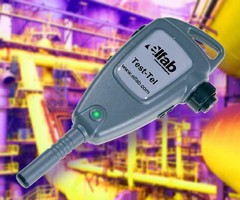 March 7, 2008 - Designed to work with Flo-Tel(TM)+ burst detection system, Test-Tel eliminates risk of poorly fitted discs or incorrectly wired detection systems. For maintenance managers, unit ensures accurate rupture control and continuous function of devices by allowing non-invasive checking of alarms. Test-Tel performs range of rupture disc status tests, confirming operation of Flo-Tel+'s detection capabilities and Test-Tel's battery strength.
Original Press Release
Elfab Introduces Portable Rupture Disc Installation Aid, Test-Tel
Press release date: February 25, 2008
Low-cost tool works with rupture detector Flo-Tel(TM)+ to ensure proper disc installation Cincinnati, OH (February 25, 2008) -To confirm correct rupture disc installation when fitted with its detection system, Flo-Tel(TM)+, Elfab, Europe's leading rupture disc manufacturer, has unveiled a low-cost, portable rupture disc installation aid, Test-Tel. A first in the rupture disc industry, Test-Tel is a low-cost portable tool that improves the rupture disc installation process by eliminating the risk of poorly fitted discs or incorrectly wired detection systems. Test-Tel is simple to use and guarantees a correct installation the first time, saving customers time and refitting costs. For maintenance managers, Test-Tel ensures accurate rupture control and continuous function of the devices by allowing fool-proof, non-invasive checking of alarms. Test-Tel performs a range of rupture disc status tests, confirming the operation of the Flo-Tel+'s detection capabilities and the Test-Tel's battery strength. For more information on Test-Tel, visit the company's web site at
www.elfab.com
, or contact Elfab's General Manager of Sales, Linda Brewer at +011.44.191.293.1220. Elfab, a Halma group company, designs and manufactures rupture discs, explosion vents and associated detection devices. These intelligent pressure relief systems protect people, plant and equipment across the globe. Elfab also delivers unique design, testing and consulting services for pressure management. View all of Elfab's latest news at:
halmapr.com/news/elfab
Website:
www.elfab.com
Company contact: Linda Brewer Tel: +011.44.191.293.1220 Fax: +011.44.191.293.1200 Email: sales@elfab.com