Product News: Communication Systems & Equipment
Portable Satellite System supports disaster recovery work.
Press Release Summary: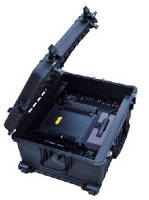 November 26, 2012 - Operating with Inmarsat Broadband Global Area Network, RapidSat700 supports data rates up to 492 kbps and provides WiFi connection up to 45 m outdoors. Satellite communications system includes 10/100 Mbps LAN ports, RJ11 voice/fax and handset, voice/data connectivity, and integrated power management with status indicators and fan-forced cooling. With built-in lithium battery backup of 538 WHr, system delivers non-stop 24 hours of transmit time.
Beam Communications Pty Ltd
Original Press Release
Beam Communication's New RapidSat700 Offers Portable Satellite Solution for Disaster Recovery Situations
Press release date: November 13, 2012
MELBOURNE, Australia, -- Beam Communications Pty Ltd, a wholly owned subsidiary of World Reach Limited, announces today the launch of RapidSat700, a portable satellite communications system that operates with the Inmarsat BGAN (Broadband Global Area Network) network.

RapidSat700 is a portable "all in one case" for satellite communication deployment in emergency situations, first responder and disaster recovery work. The RapidSat700 solution is also ideal for a rapid setup providing easy access to voice and higher speed satellite data / internet access in remote areas.

RapidSat700 supports data rates up to 492kbps, provides WiFi connection up to 45 meters outdoors, 10/100Mbps LAN ports, RJ11 voice/fax & handset, voice/data connectivity, and integrated power management with status indicators and fan-forced cooling. The RapidSat700 contains inbuilt Lithium Battery backup of 538WHr, delivering a non stop 24 hours of transmit time when you need wherever you need it.

The RapidSat700 has an in-built EXPLORER 700 BGAN terminal which is secured into the robust case with everything you need ready for deployment. EXPLORER 700, provides access to the highest bandwidth available via BGAN, thereby facilitating a platform for a wide range of applications with need of high performance.

"With the increase in natural disasters around the world the opportunities for this purpose built all in one communication solution will address the need of efficient and safe recovery work. The solution provides the only available rapidly deployable, portable high speed data communications anywhere, said Michael Capocchi, Managing Director, Beam Communications.

Beam has manufactured 8 new products for Inmarsat in the past 2 years, this new product combining the EXPLORER 700 is the first of a specialized range of disaster recovery products for providing access to rapidly deployable higher speed data access.

For more information:

Beam Communications
Michael Capocchi, Managing Director
michael.capocchi@beamcommunications.com
Phone: +61 3 8588 4501

Marie O Petersson, Senior Marketing Executive
marie.opetersson@beamcommunications.com
Phone: +61 3 8588 4565

About Beam Communications Pty Ltd
Beam Communications Pty Ltd is a wholly owned subsidiary of World Reach Limited. Beam Communications designs, manufactures and distributes a wide range of Iridium and Inmarsat Satellite voice, data, tracking terminals and accessories for the global telecommunications market. Through a global network of resellers Beam's solutions are deployed into a wide range of vertical markets including Maritime, Transport, Government, Defence, Mining, Construction, Forestry, Emergency Services, Relief Aid, Telemetry and Rural Telephony.

For more information www.beamcommunications.com

About World Reach Limited
World Reach Limited is an Australian company with strategic ownership of companies involved in the design, manufacturing and distribution of equipment, applications and services to the global needs of Information Communication & Technology markets. World Reach Limited owns 100% of Beam Communications Pty Ltd.

For more information www.worldreach.com.au or www.satphoneshop.com

Web Site: www.beamcommunications.com