Product News: Computer Hardware & Peripherals
Portable Printer integrates with mobile handheld computer.
Press Release Summary: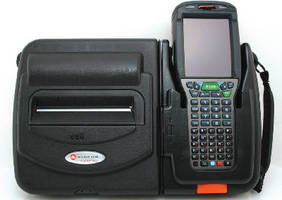 December 26, 2011 - Combining PrintPAD printer with Honeywell's Dolphin(TM) 99EX mobile handheld computer, PrintPAD 99EX offers mobile workers carry, charge, and communicate solution for route accounting, direct store delivery, and other field service applications. PrintPAD cradle charges printing unit and Dolphin(TM) 99EX simultaneously. Optional built-in magnetic stripe card reader allows collection of credit or debit card payments, while intelligent power management and programmable sleep mode extend battery life.
Original Press Release
Datamax-O'Neil Introduces the PrintPAD 99EX Designed to Integrate with Honeywell's Dolphin 99EX Mobile Handheld Computer
Press release date: December 6, 2011
The Addition of the Dolphin 99EX Expands Datamax-O'Neil's PrintPAD Integrated Printing Solution to Include Industry Leading Mobile Handheld BOURG-LÈS-VALENCE, FRANCE - - Datamax-O'Neil, a global provider of industrial grade label and receipt printing solutions, today announces the availability of the PrintPAD 99EX, which combines the company's PrintPAD integrated printing solution with Honeywell's Dolphin(TM) 99EX mobile handheld computer. Offering mobile workers the convenience of a "carry, charge and communicate" solution, the PrintPAD 99EX combines a sleek, ergonomic design with rugged reliability. It meets the demanding requirements of route accounting, direct store delivery and other field service applications. Honeywell's Dolphin(TM) 99EX mobile computer provides extreme durability, cutting-edge wireless technology, user-friendly design and multi-functional data capture for front-line workers operating in both indoor and outdoor environments. Combined with Datamax-O'Neil's PrintPAD cradle and printer, the integrated solution is designed to take mobile worker productivity to a new level while helping to reduce operating costs. The Datamax-O'Neil PrintPAD cradle charges both the printing unit and the Dolphin(TM) 99EX simultaneously, eliminating the need for multiple A.C. and D.C. adaptors and chargers. The unit can even be truck-mounted and charged between service appointments via a vehicle cigarette lighter adapter. In addition, the PrintPAD 99EX provides effortless and reliable communication between the handheld and the printer. An optional built-in magnetic stripe card reader allows the easy collection of credit or debit card payments, which makes it ideal for point-of-sale applications. Users can quickly determine the printer's Bluetooth, charging and power status with the PrintPAD's external LEDs. The PrintPAD offers intelligent power management and a programmable sleep mode that provides extended battery life. For direct store delivery applications, optional DEX capabilities are available, allowing communication via DEX connections with no special software or mechanical switches. The PrintPAD and Dolphin(TM) 99EX have been tested to successfully survive multiple six-foot drops to concrete. In the often rough-andtumble mobile work environment, the extreme reliability and durability of the PrintPAD 99EX solution has become a solid requirement for both indoor and outdoor mobile applications. "The new PrintPAD 99EX expands our line to include another major mobile handheld computer manufacturer," said Christian Bischoff, Regional General Manager EMEA at Datamax-O'Neil. "Our relationship with Honeywell strengthens our position in offering the most competitive solutions for DSD, route accounting and field service applications." "Honeywell Scanning & Mobility is focused on helping enterprises improve productivity. The Dolphin 99EX, paired with the Datamax- O'Neil PrintPAD, is a powerful solution for mobile workers who need computing and printing capabilities on the go," said Taylor Smith, director of product management for Honeywell Scanning & Mobility. * Dolphin is a trademark of Hand Held Products, Inc. in the United States and/or other countries. About Datamax-O'Neil
Datamax-O'Neil is a trusted global provider of stationary, portable and mobile label and receipt printing solution products that enable manufacturing and supply markets to capture the benefits of automated product identification and automated legal and financial transactions. Datamax-O'Neil is the barcode and mobile printing business group of Dover Corporation's Product Identification Group (PIDG), a global platform entity with products and services covering all the leading marking technologies and applications. The company's products address a wide variety of applications, including those in the industrial, healthcare, retail, automotive and ticketing market sectors. Datamax-O'Neil is headquartered in Orlando, Florida, and maintains key facilities in California, Illinois, and France, as well as sales and technical support offices around the world. Customer contact:
Datamax-O'Neil
Charlotte Barthélemy
Marketing Manager EMEA
9, rue Gaspard Monge
F-26500 Bourg-Lès-Valence
Tel: + 33 (0)475 756 311
Fax: + 33 (0)475 829 839
E-Mail: cbarthelemy@datamax-oneil.com
Internet:
www.datamax-oneil.com