Product News: Electrical Equipment & Systems
PMBus Compliant 1/4 Brick Converter incorporates 32-bit processor.
Press Release Summary: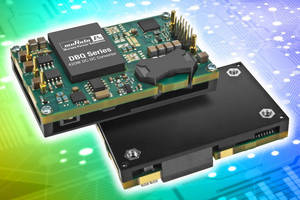 July 2, 2014 - Incorporating 32-bit ARM7 processor and 2,250 Vdc input to output isolation, 420 W regulated DBQ0135V2 includes PMBus™-compatible digital interface with Advanced Bus Converter (ABC) pinout for digital power management. This 420 W, 12 Vout quarter-brick converter supports TNV input range of 36–75 V with typ efficiency of 95.2%. Also included, droop load sharing option allows connecting 3 modules together in parallel for increased power or redundancy.
Original Press Release
Murata Introduces 420W PMBus Compliant 1/4 Brick Converter
Press release date: June 1, 2014
Hoofddorp, Netherlands: Murata today announced the DBQ series of isolated digitally controlled DC-DC converters developed by Murata Power Solutions. Incorporating a 32-bit ARM7 Processor, the 420 Watt regulated DBQ0135V2 model is the first in a series of DC-DC converters to include a PMBus™ compatible digital interface. The DBQ series is packaged in the industry standard quarter-brick format incorporating the Advanced Bus Converter (ABC) pinout for PMBus™ communications to an isolated DC-DC converter.
The DBQ0135V2 is an isolated, regulated, 420W-12Vout quarter-brick that supports the TNV input voltage range of 36V–75V with a typical efficiency of 95.2%. To achieve this level of performance, the DBQ utilizes a 32-bit ARM7 processor and proprietary firmware to control all critical functions of the module. The module provides a digital interface (ABC pinout) supporting the PMBus™ standard for digital power management in systems used in applications such as MicroTCA, servers, storage, networking equipment, PoE wireless networks, and industrial and test equipment.
The PMBus™ interface facilitates power management features not previously available in an isolated, modular, 1/4 brick DC-DC converter. By interfacing  the DBQ to the system's I2C bus, a systems engineer can monitor critical system level performance requirements that include Vin, Iin, Vout, Iout, and operating temperature. The PMBus™ can also be used to set warning flags for temperature, Vin, Vout, and Iout, and allows the user to customize parameters such as Vout, Vin turn on/off thresholds, output over voltage protection, output current limit, and ramp up characteristics, to name a few.
The DBQ series "droop" load sharing option that allows connecting three modules together in parallel for demanding power-hungry applications or to provide redundancy in high-reliability applications. The converter also offers  input to output isolation of 2250 VDC as required for Power over Ethernet (PoE) applications.
A GUI (Graphical User Interface) and evaluation boards are available to assist the power engineer in designing a state-of-the-art power system. Typical applications for the DBQ series include Distributed Power Architectures (DPA) and Intermediate Bus Architectures (IBA) in MicroTCA, data center, server, storage, networking, wireless base stations, fan trays, and industrial and test equipment applications.
For further information and reader enquiries:
Aya Tonooka
Murata Europe Limited.
Oak House, Ancells Road
Ancells Business Park
Fleet, Hampshire  GU51 2QW
United Kingdom
Tel: +44 (0) 1252 811666 
E-mail:
atonooka@murata.co.uk
Fax:  +44 (0) 1252 811777 
Web:
www.murata.eu
Agency contact:
Robert Huntley
Publitek Limited
18 Brock Street
Bath, BA1 2LW, United Kingdom
Tel: +44 (0) 1225 470000 
E-mail:
robert.huntley@publitek.com
Fax:  +44 (0) 1225 470047 
Web:
www.publitek.com
About Murata
Murata is a leading manufacturer of electronic components, modules, and devices. The complete range of this Technology house includes ceramic capacitors, resistors/thermistors, inductors/chokes, ceramic resonators, buzzers, sensors and EMI suppression filters. Whilst the company gets the majority of its revenue from its ceramic capacitor products, it is also the world leader in Bluetooth® & WiFi™ Modules, the world's no.1 manufacturer of board-mount DC-DC converters and is a key manufacturer of standard and custom AC-DC power supplies. Murata also designs and manufactures mobile handset antenna families, piezoelectric actuators for fuel injection systems and short focal length ceramic lenses.
Established in 1944, Murata is headquartered in Japan and has European offices in Germany, the Netherlands, the UK, Switzerland, Italy, France, Spain, Finland and Hungary.
For more information on Murata, please visit:
www.murata.eu
. You can also follow us on Twitter
@MurataEurope
or LinkedIn
http://www.linkedin.com/company/murata-electronics
, or join us on Facebook at
http://www.facebook.com/MurataElectronics
.