Product News: Machinery & Machining Tools
Plasma Treatment System automates microelectronics processing.
Press Release Summary: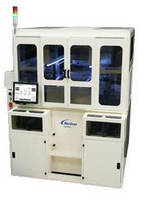 July 16, 2012 - FasTRAK(TM) Vacuum Plasma System features robotic movement that eliminates operator handling of lead-frame microelectronic strips or magazines. System accommodates up to 10 strips per batch. Measuring 1.65 m wide x 1.5 m deep, it includes plasma chamber that can be configured for direct or ion-free plasma modes. Also included is material tracking software application and internal camera to count number of strips and track their progress throughout treatment process.
Original Press Release
Nordson MARCH Introduces Fully Automated Plasma Treatment System That Lowers the Handling Risk to Sensitive Substrate Materials
Press release date: July 9, 2012
· Global launch of FasTRAK Plasma System for high reliability strip processing to take place at SEMICON West, Booth #6071 Concord, California, USA - Nordson MARCH, a global leader in plasma processing technology, introduces the new FasTRAK(TM) Plasma System, a fully-automated, high throughput, vacuum plasma treatment system for lead-frame strips, laminate substrates, and other strip-type microelectronic components. Using state-of-the-art robotic movement that virtually eliminates operator handling of the strips or magazines, the FasTRAK Plasma System accommodates the full known range of magazines and strip width, length, and thickness dimensions. The field-proven robotics were specifically designed to lower the handling risk to the sensitive substrate materials by using minimal pushing, pulling, and low G-forces. The FasTRAK System features an innovative new material tracking software application and internal camera to count the number of strips and track their progress throughout the entire treatment process, providing 100% treatment validation. Up to 10 strips can be accommodated per batch with an industry leading units per hour (UPH) treatment rate. Measuring 1.65 meters wide by 1.5 meters deep the FasTRAK Plasma System has a >35% smaller system footprint than previous strip processing models. "The new FasTRAK Plasma System incorporates field-proven robotic material handling technology, but with a radically improved design, smaller footprint, and strip-size versatility to meet today's most demanding industry requirements," said Dr. James Getty, president, Nordson MARCH. The FasTRAK System also includes a new high-efficiency, application-specific, plasma chamber that can be configured for direct or ion-free plasma modes. Typical plasma applications include:
· Pre-die attach for improved adhesion
· Pre-wire bond for higher pull strength and CpKs A FasTRAK Plasma System, and plasma experts from Nordson MARCH, will be available at the SEMICON West Show, in Booth #6071, the Moscone Center, San Francisco, CA, USA, July 10-12, 2012. About Nordson MARCH
Nordson MARCH is the global leader in plasma processing technology for the semiconductor, printed circuit board (PCB), microelectronics, and medical & life science device manufacturing industries. Nordson MARCH has offices and applications laboratories worldwide, including California, Florida, Europe, Singapore, China, Japan, Korea and Taiwan. With over 20 years of continuous innovation, Nordson MARCH designs and manufactures a complete line of award-winning and patented plasma processing systems. An expert staff of scientists and engineers is available to assist in the development of plasma processes that improve product reliability and increase production yields. Visit Nordson MARCH on the web at
www.nordsonmarch.com
or Facebook. About Nordson Corporation
Nordson Corporation (Nasdaq: NDSN) is one of the world's leading producers of precision dispensing equipment that applies adhesives, sealants, liquid and powder coatings and other materials to a broad range of consumer and industrial products during manufacturing operations. The company also manufactures equipment used in the testing and inspection of electronic components as well as technology-based systems for UV curing and surface treatment processes. Headquartered in Westlake, Ohio, Nordson has direct operations and sales support offices in more than 30 countries. Visit Nordson on the web at
www.nordson.com
,
www.twitter.com/Nordson_Corp
or Facebook. CONTACT: Roberta Foster-Smith
Phone: 925.827.1240
E-mail: info@nordsonmarch.com
E-mail: Roberta.foster-smith@nordsonmarch.com
Website:
www.nordsonmarch.com
Nordson MARCH
2470-A Bates Avenue
Concord, California 94520-1294 USA
· Pre-mold to reduce delamination
· Post-mold to remove flash
· Pre-underfill to reduce voiding