Product News: Fluid & Gas Flow Equipment
Piping System joins copper tubing for gas applications.
Press Release Summary: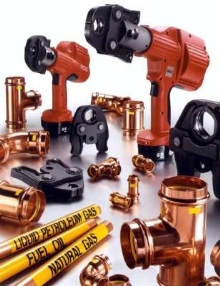 August 27, 2004 - Suited for natural gas, LP gas, and fuel oil installations, ProPress G uses ½-2 in. copper fittings and hydraulic pressing tools, which are fitted with interchangeable jaws in 9 sizes. Yellow sealing element is composed of HNBR, while SmartConnect(TM) indentation feature identifies unpressed connections and is sealed during pressing process. ProPress G is approved for installations with max pressure of 125 psi and ambient temperature of -40 to 150°F.
Original Press Release
ProPress G(TM) Lets Installers Connect Gas Piping Quickly and Safely With The ProPress System
Press release date: August 1, 2004
ELYRIA, OH - August 2004 - Ridge Tool Company and Viega now offer a piping system that is approved for natural gas, LP gas and fuel oil installations using copper tubing. The ProPress G(TM) system is an extension of the partners' popular ProPress® line used to join copper tubing for water applications.
Like the ProPress system, ProPress G uses special 1/2" to 2" copper fittings, along with the hydraulic pressing tools. The tools are fitted with interchangeable jaws that come in nine sizes to fit a wide range of piping applications.
The ProPress System has been used in thousands of installations since 1999. In recent months, it has been introduced for gas piping, LP gas and fuel oil applications with ProPress G fittings. The dependability of the connections is the reason why major industry and government approval bodies throughout the world have approved ProPress G for gas piping and fuel oils.
"Over the past few months, it has been widely reported in the trade press that copper tubing has been tested and approved for natural gas installations," said Edward McKiernan, director of marketing, ProPress System at Ridge Tool. "And pressing is the fastest way to make copper connections."
Savings in material cost is one of ProPress G's key benefits. Copper is less expensive than flexible, corrugated, stainless steel tubing. It is also widely available and has a professional appearance because it maintains its form.
ProPress G connections are installed with the same tools that have installed thousands of standard ProPress connections across the U.S. The tools cycle in seconds and are designed to make the same consistent connection every time. That means installers are more productive, and installations are reliable.
The ProPress G system further increases installer productivity because residential installers can join all of their copper and plastic piping (for plumbing, heating and gas applications) using one pressing tool.
ProPress G fittings have the same quality and design as traditional ProPress fittings, but they have a yellow sealing element composed of a high-performance hydrogenated nitrile butadiene rubber (HNBR) designed to last the life of the tubing. The fittings also feature a yellow marking to identify them as gas fittings.
Every ProPress G fitting includes the SmartConnect(TM) (SC) feature, which saves time by quickly and easily identifying unpressed connections so they are not left unpressed. This feature is a special indentation on the inside surface of the fitting near the HNBR sealing element. The indentation ensures leakage of liquids and/or gases from the inside of the fitting past the sealing element of an unpressed fitting. The indentation is sealed during the pressing process, resulting in a leak-free permanent connection.
ProPress G connections have been tested by CSA to be in compliance with CSA International Requirement No. 1-02 U.S. for Press-Connect Type Copper and Copper Alloy Fittings For Use With Fuel Gas Tubing. The fittings are approved for use with natural gas, mixed gases, manufactured gases and fuel oil heating systems.
ProPress G can be used to install copper gas piping as long as the gas supply contains less than 0.3 grains of hydrogen sulfide per 100-scf of gas (0.7mg/100L), per NFPA 54/ANSI Z223.1.
In addition, ProPress G is approved for installations with a maximum pressure of 125 psi and an ambient temperature range of -40°F to 150°F. The connections should be used to connect Types K and L copper tube as well as Type M (if permitted by local codes). Connections can be made on both hard copper tube (up to 2") and soft/annealed copper tube (up to 1-1/4").
The ProPress System is a joint venture between Ridge Tool Company and Viega, a privately held German company. Viega is a world leader in fitting systems for plumbing and heating applications as well as gas systems.
Ridge Tool Company, a leading manufacturer of hand and power tools, markets its products in more than 130 countries. The company's broad offering includes threading and drain cleaning machines, and more than 300 types of tools serving the rental, plumbing, HVAC/R, industrial, electrical, petroleum, institutional, commercial and hardware markets. Ridge Tool is a subsidiary of St. Louis, Missouri-based Emerson.
For additional information on the RIDGID/Viega ProPress G pipe system for gas installations, please contact Ridge Tool Company, 400 Clark Street, Elyria, OH 44036 U.S.A. Or, call toll free: 1-800-769-7743.
www.ridgid.com