Product News: Adhesives & Sealants
Pipe Thread Sealant features 100% virgin PTFE.
Press Release Summary: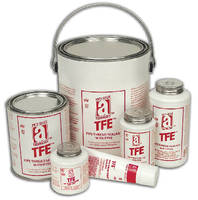 December 5, 2008 - Formulated to thick paste consistency, TFE Pipe Thread Sealant fills thread imperfections and provides leak-proof joints that seal for life of connection. Non-hardening product contains no solvents, seals immediately, and prevents corrosion, seizing, and galling. Designed to withstand temperatures to 500°F and liquid pressures to 10,000 psi, sealant is suitable for all pipe threads made of cast iron, malleable, brass, copper, and stainless steel.
Anti-Seize Technology Industries, Inc. - Franklin Park, IL
Original Press Release
TFE Pipe Tread Sealant: Standard for the Industry and Mainstay for the Company
Press release date: November 18, 2008
Anti-Seize Technology (AST) produces the Cadillac® of Pipe Thread Sealants with more 100% virgin PTFE than similar products on the market.

Franklin Park, Illinois- As the most widely used Pipe Thread Sealant on the market, Anti-Seize Technology's TFE Pipe Thread Sealant out performs the competition on the job creating similar performance results in sales. Simply stated, AST has developed TFE, a superior Pipe Thread Sealant that contains more 100% virgin PTFE giving the product a clear advantage over the competition.

AST President John H. Heydt talks about TFE. "In the Chemical Industry everyone uses the phrase, 'Our product is the best,' but when a product really is the best the impact of that statement gets lost. We make the claim and then we back it up with the reasons why."

Pipe Thread Sealants with PTFE are rated first on the amount of PTFE in the mixture. The more PTFE included, the more lubricating and sealing performance you'll get from the product. AST's TFE Pipe Thread Sealant has a special formula along with the most 100% virgin PTFE and thus the product rates very high with users. But that advantage goes further than additional lubrication and sealing. Additional PTFE offers prevention against corrosion, seizing, and galling. These are all key benefits to plumbers, pipe fitters, and others who work with piping. TFE is FDA and NSF authorized, UL Classified along with having UL approval for Fire Protection Glycol sprinkler systems.

AST products serve many industries and cover a wide range of uses. In addition to thread sealants, other product lines include anti-seize compounds, threadlockers, lubricants, penetrants, protectants, instant-gasket products, and cleaners/degreasers.

TFE Pipe Thread Sealant Product Specifications:
TFE(TM) is a superior-grade, non-hardening, heavy-duty pipe thread sealant that is easy to-apply. Formulated to a thick paste consistency, its fortified with an extra amount of PTFE and PTFE materials to give a positive seal with less effort. Because of its unique solids content, TFE fills thread imperfections and provides leak-proof joints that seal for the life of the connection.

Features and Benefits:
o Heavy-duty sealant
o Contains no solvents
o Seals immediately, no waiting
o Non-staining, non-corrosive, non-hardening, non-toxic
o Non-dripping, can be applied to newly cut hot threads
o FDA and NSF authorized
o Prevents corrosion, seizing, and galling
o UL Classified and NSF Registered
o UL Classified for fire protection sprinkler systems

Temperature/Pressure Ranges: Withstands temperatures to 500ºF (260ºC) and pressures to 10,000 psi (liquid), 2,000 psi (gas)

Applications: Recommended for potable water, steam, LP and natural gas, refrigerants, solvents, caustics, dilute acids, oils, gasoline, diesel, fuel oils, and gasoline.

Use on all pipe threads made of cast iron, malleable, brass, copper, and stainless steel.

Designed for use by all pipe fitters, fabricators, plumbers, and mechanical contractors.

Available In: 2oz bt, 3oz tube, 1/4pt bt, 6oz tube, 1/2pt bt, 1pt bt, 1qt can, 1qt bt, 1gal can, 5gal pail, 55gal drum