Product News: Portable Tools
Pipe Press Kits feature blow-molded carrying case.
Press Release Summary: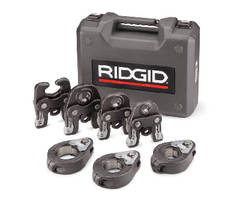 September 4, 2014 - Weighing 21 lb lighter than previous models to facilitate carrying on and off jobsite, MegaPress® Kits include RIDGID Press Tools, Jaws, Rings, and Prep Tools built for demanding applications. Flameless system eliminates need for hot work permits. Press connections can be made on wet system. Kits include ½–2 in. Full MegaPress Kit and ½–1 in. Jaw-Only MegaPress Kit.
Original Press Release
RIDGID® Introduces Lighter MegaPress Carrying Case
Press release date: August 27, 2014
ELYRIA, OHIO – RIDGID® MegaPress® Kits will now feature a new, blow-molded carrying case and are up to 21 pounds lighter than previous models. This makes the kits easier to carry on and off the jobsite.  The MegaPress Pipe End Preparation Tools will no longer be included in MegaPress Kits, however, they are still sold separately. RIDGID Press Tools, Jaws, Rings and Prep Tools are built for the most demanding applications and are backed by the RIDGID Full Lifetime Warranty. In addition, all RIDGID MegaPress Jaws, Rings and Prep Tools were jointly developed and tested with Viega® MegaPress fittings.
"RIDGID strives to always incorporate customer input and feedback into the tools that we make," said Bob Solymos, RIDGID Global Marketing Manager.  "Our customers wanted a lighter MegaPress Kit configuration to help them be more agile and productive on the jobsite and we responded."
RIDGID is the leader in steel pipe pressing technology.  MegaPress is a flameless system that eliminates the need for hot work permits. Press connections can be made on a "wet" system.
The ½-inch to two-inch Full MegaPress Kit is catalog number 48553. The ½-inch to one-inch Jaw-Only MegaPress Kit is catalog number 48558. The MegaPress Carrying Case is catalog number 48563.
For additional information, please visit
www.RIDGID.com
, call toll free: 1-800-769-7743, or contact RIDGID, 400 Clark St., Elyria, Ohio 44035 USA.
About RIDGID®
RIDGID®, a leading manufacturer of innovative tools and equipment for the professional trades, markets its products in more than 140 countries. The company's broad offering of more than 300 types of tools, including RIDGIDConnect™, an online business tool, serves the rental, plumbing, HVAC/R, utility, industrial, electrical, petroleum, institutional, commercial and hardware markets. RIDGID is part of Emerson Commercial & Residential Solutions, a business of Emerson, which brings technology and engineering together to design and produce some of the highest-quality tools and equipment in the world. From wet/dry vacs to the industry's best-selling pipe diagnostic system, key brands include RIDGID®, PROTEAM® and InSinkErator®. Like RIDGID on Facebook and follow us on Twitter. 
About Emerson
Emerson (NYSE:EMR), based in St. Louis, Missouri (USA), is a global leader in bringing technology and engineering together to provide innovative solutions for customers in industrial, commercial and consumer markets around the world.  The company is comprised of five business segments: Process Management, Industrial Automation, Network Power, Climate Technologies, and Commercial & Residential Solutions.  Sales in fiscal 2013 were $24.7 billion.  For more information, visit
www.Emerson.com
.
©2014, RIDGID, Inc. The Emerson logo and RIDGID logo are registered trademarks of Emerson Electric Co. or RIDGID, Inc. in the U.S. and other countries. All other trademarks belong to their respective holders.