Product News: Machinery & Machining Tools
Pipe End Prep Tool is available with 1,800 W electric motor.
Press Release Summary: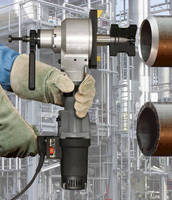 June 21, 2012 - Constructed with dual-opposed tapered roller bearings, direct-drive gears, rigid blade lock system, and TiN-coated T-15 tool steel cutter blades, Prepzilla MILLHOG® Electric ID Clamping End Prep Tool is offered with 1,800 W motor that operates on 110/230 Vac. Only one mandrel and 8 sets of clamps are required for pipe from 1.5 in. ID to 8.62 in. OD. Designed to bevel, face, and bore all hard pipe alloys, tool comes with all clamp ribs and pads, hose and filter, and lubricator.
Esco Technologies Inc. - St Louis, MO
Original Press Release
Pipe End Prep Tool Gets New 1800 W Electric Motor
Press release date: May 14, 2012
A heavy-duty I.D. clamping pipe milling end prep tool now offered with an electric motor for performing heavy-wall preps at metal fabrication shops or on-site is being introduced by ESCO Tool of Holliston, Massachusetts. The Prepzilla MILLHOG® Electric I.D. Clamping End Prep Tool features robust construction with dual-opposed tapered roller bearings, direct-drive gears, a rigid blade lock system, and TiN coated T-15 tool steel cutter blades. Now offered with an 1800W motor that operates on 110/230VAC, it needs only one mandrel and eight sets of clamps for pipe from 1.5" I.D. to 8.62" O.D. Designed to bevel, face, and bore all hard pipe alloys, the Prepzilla MILLHOG® Electric I.D. Clamping End Prep Tool is supplied complete with all clamp ribs and pads, a hose and filter, lubricator, and a metal carrying case. For users who have the pneumatic version of the tool and want to convert to electric, the changeover only requires four bolts. The Prepzilla MILLHOG® Electric I.D. Clamping End Prep Tool is priced at $8,995.00 or is offered for rent in the continental U.S. for $336.00/week. For more information contact: ESCO Tool A Unit of Esco Technologies, Inc. Matthew Brennan, Marketing Director 75 October Hill Rd. Holliston, MA 01746 (800) 343-6926 FAX (508) 429-2811 e-mail: matt@escotool.com
www.escotool.com