Product News: Sensors Monitors & Transducers
Photoelectric Sensors serve in hygienic, washdown environments.
Press Release Summary: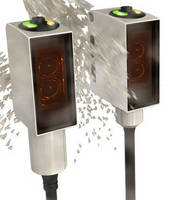 December 13, 2012 - Designed considering Hazard Analysis and Critical Control Point (HACCP) principles for hygienic manufacturing processes, QM26 and QMH26 suit food and beverage and pharmaceutical industries. Both sensors come in non-toxic, 316L stainless steel housing and survive high-pressure washdowns as well as temperature cycling from -30 to +60°C. While QM26 is intended for splash zone areas, QMH26 has minimal grooves/crevices, is self-draining for CIP applications, and can serve in contact zones.
Banner Engineering Corp. - Minneapolis, MN
Original Press Release
Banner Engineering Introduces Two New Sensors for Hygienic and Washdown Environments
Press release date: December 11, 2012
QM26 and QMH26 Photoelectric Sensors
Minneapolis, MN – Banner Engineering announces the QM26 and the QMH26 photoelectric sensors, designed specifically for food and beverage and pharmaceutical industries. Influenced by the 2011 Food Safety Modernization Act (FSMA), the European Hygienic Engineering and Design Group (EHEDG) and food safety initiatives among private businesses, Banner wanted to ensure the sensors provided reliable performance in manufacturing and packaging zones, including contact zones, splash zones and non-contact zones.
"The sensors' design considers Hazard Analysis and Critical Control Point (HACCP) principles for hygienic manufacturing processes," said Mark Schmid, Banner Engineering Food and Beverage Industry Manager. "Our goal was to deliver Banner's proven sensing capabilities to areas where the sensors may come in contact with food or materials, and make them suitable for harsh washdown environments with high pressure, extreme temperatures and chemicals."
The QM26 is housed in a non-toxic 316L stainless steel housing, and can survive high pressure washdowns and temperature cycling, ranging from -30° C to 60° C. The sensor is ECOLAB® certified for inexhaustible sensor life in chemically cleaned environments and is intended for splash zone areas. The QM26 also features easy side-mounting for quick set-up and installation.
The QMH26 has all the advantages of the QM26, however, it is designed with minimal grooves and crevices, leaving no room for bacteria to hide and multiply. It is self-draining for clean-in-place (CIP) applications. The sensor's hygienic mounting shape reduces contamination risk, making it a suitable sensor to place in contact zones.
"As US food and drug manufacturing companies engage more with hygienic food safety controls, they'll be able to rely on Banner—and our extensive system of distributors and local support—to quickly and efficiently supply them with hygienic, washdown sensors," said Steve Wong, Pharmaceutical Industry Manager.
For more information about the QM26 and QMH26, watch the video at the following link: http://youtu.be/JW1mUa-VnGk.
Both the QM26 and QMH26 operate in retroreflective, clear object and adjustable field background suppression mode. The QM26 also operates in opposed mode. To learn more about their sensing capabilities, visit bannerengineering.com/QM26 or bannerengineering.com/QMH26.
About Banner. Banner Engineering is a world leading manufacturer of photoelectric and ultrasonic sensors, indicator lights, vision sensors and vision lighting, electronic machine safeguarding systems, wireless networks, fiber optic assemblies and precision measurement systems.
For further information, contact Banner Engineering Corp., 9714 Tenth Avenue North, Minneapolis, MN 55441. PH: 888.373.6767 (Toll-free North America), or 001.763.544.3164 (International). FAX: 763.544.3213. Email: sensors@bannerengineering.com. E-commerce:
www.bannerengineering.com/buyonline