Product News: Electrical Equipment & Systems
PFC Converters simplify avionic AC/DC power supply design.
Press Release Summary: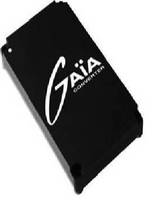 January 10, 2013 - HGMM 35, 150, and 350 W AC/DC front-end modules comply with DO-160E, ABD100, AMD-24, or MIL-STD-704F standards. All modules, with efficiencies to 93%, are available for 115 Vac single-phase and 360–800 Hz frequency range; 47–440 Hz and universal 85–265 Vac/45–65 Hz options are also available. While HGMM 35 W has 1,500 V isolation and 2 independent 17 V outputs in 2 x 3 in. package, HGMM 150 and 350 W are non-isolated ½ bricks with 375 V output for pairing with other isolated DC/DC modules.
Gaia Converter, Inc. - Morristown, NJ
Original Press Release
Gaia Converter Simplifies Avionic AC-DC Power Supply Design with HGMM Series Power Factor Correction Converters
Press release date: December 1, 2012
Need an Avionic AC-DC power supply? Look no further, Gaia Converter  the High Rel Power modules specialist, has extended its HGMM AC-DC Front-end module offering with the 150W ½ brick.
For all power needs from 35 to 350W or more, Gaia Converter's state of the art  35W, 150W & 350W PFC modules comply with with the latests standards DO-160E, ABD100, AMD-24, or MIL-STD-704F.
This HGMM  series offers the unique market solution to comply with DO-160 & ABD100 Individual Current Harmonic (ICH) requirements in this power range:
All 3 modules are available for 115Vac single phase & 360-800Hz wide frequency range with efficiencies as high as 93%. 47-440 Hz & universal 85-265 Vac / 45-65 Hz also available.
- The HGMM – 35W has 1500V isolation and 2 independent 17V outputs for highly compact low power designs in a standard 2''x3'' package.
- The HGMM Series 150W & 350W are non isolated ½ bricks 375V output to be paired with other isolated DC-DC modules such as the Gaia Converter High Voltage series (MGDS 75, 150 or 175W).
Additional key features include active inrush current limitation, output over load protection, short circuit protection, inhibit function. HGMS – 150 & 350 models also provide a Drive signal to control additional DC-DC modules, and a 7.5Vdc reference.
GAÏA Converter HGMB-35 GAÏA Converter HGMS-150 & 350
About GAÏA Converter
GAÏA Converter was created in the early 1990's. Since that time the company has developed one of the most comprehensive ranges of modular power components in the electronics market place. GAÏA Converter has also brought to the market its now well established concept of Modular Power Architecture simplifying the design of complex power supplies. With more than 3,500 standard power component references serving the industrial, transportation, aerospace and military markets, GAÏA Converter is recognised as one of the world leaders of "power module" solutions.
For more information contact
GAIA CONVERTER
www.gaia-converter.com