Perioperative Dashboard offers case status on mobile device.
Press Release Summary: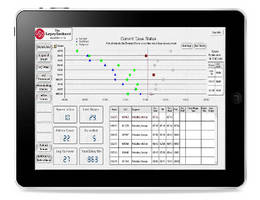 October 18, 2012 - Designed to help hospitals reach peak performance, SIS Surgery Dashboard empowers decision makers to make changes on day of surgery that have immediate impact on patient throughput and resource utilization. Case status for every OR is displayed along with visual cues for milestones such as scheduled start time, actual start time, and estimated end time. Armed with information, users can adjust assigned rooms and resources when surgery runs long and insert add-on cases during gap periods.
Original Press Release
Surgical Information Systems Delivers New Mobile Perioperative Dashboard
Press release date: October 10, 2012
Up-to-the-minute Case Status on Mobile Devices Puts Power in the Hands of OR Management to Improve Efficiency on the Day of Surgery

ATLANTA, -- Surgical Information Systems (SIS), a leader in perioperative information systems, today announced the release of the SIS Surgery Dashboard, the latest perioperative optimization tool designed to help hospitals reach peak performance. The OR is a critical area of the hospital where proper use of resources can significantly curb costs and increase revenue. With the SIS Surgery Dashboard, SIS empowers decision makers to make changes on the day of surgery that have immediate impact on patient throughput and resource utilization. 

"The SIS Surgery Dashboard gives an instant snapshot of the status of every OR all in one place," says Zeev Kain, M.D., department chairman of anesthesiology and perioperative care at the University of California-Irvine Medical Center (UCI). "Easy access to this data -- either in the command center or on an iPad -- helps users predict how the day will play out so scheduling adjustments can be made to minimize overtime, efficiently manage resources, and ensure that our ORs are fully utilized."

Intuitive and easy to use, the SIS Surgery Dashboard rapidly delivers actionable intelligence to OR and anesthesia leaders. Case status for every OR is displayed along with visual cues for important milestones such as scheduled start time, actual start time, and estimated end time. Users can drill further down into performance details - and watch the view automatically transform based on the level of drill down - to see OR downtime, the number of add-on and cancelled cases, and OR turnover time.

Armed with this information, users can take action throughout the day to easily adjust assigned rooms and resources when a surgery runs long and insert add-on cases during gap periods.  This flexibility improves workflow throughout the perioperative department as well as clinician and patient satisfaction. Key metrics are also monitored throughout the day, including the number of cases that start on time and the average turnover time from one surgery to the next, both of which indicate how efficiently the OR is running that day.

"Hospitals see tremendous efficiencies in the OR when they have access to information that is presented in a meaningful way," says Ed Daihl, Chief Executive Officer of SIS. "With the SIS Surgery Dashboard, we have extended the power of our analytics tool to enable near real-time decisions so hospitals can improve workflow and take control over OR activities every day."

About SIS
Surgical Information Systems ("SIS") provides software solutions that are uniquely designed to add value at every point of the perioperative process. Developed specifically for the complex surgical environment, all SIS solutions - including anesthesia - are architected on a single database and integrate easily with other hospital systems. SIS offers the only surgical scheduling system and the only anesthesia information management system endorsed by the American Hospital Association (AHA), and analytics and rules-based charging products that have been granted Peer Reviewed status by the Healthcare Financial Management Association (HFMA). SIS is also the first AIMS provider to be designated as an AQI Preferred Vendor by the Anesthesia Quality Institute (AQI).

SIS, the SIS logo, and Surgical Information Systems are trademarks of Surgical Information Systems, LLC. Other company and product names may be trademarks of their respective owners. 

For more information, visit our website, www.SISFirst.com.

CONTACT: Katie Allen, +1-678-507-1669, kallen@sisfirst.com

Web Site: www.sisfirst.com