Product News: Cleaning Products & Equipment
PE Scraper prepares pipe OD for electrofusion.
Press Release Summary: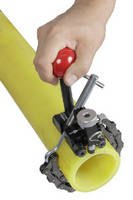 October 19, 2012 - Designed for pipes ranging from  2–6 in., PE Scraper removes dirt and oxidation from outside diameter in preparation for electrofusion process. Unit features spring-loaded blade that keeps consistent pressure on pipe to yield smooth, finished surface without skipping. Used on edge of pipe or anywhere along length, scraper requires 6 in. clearance for turning around pipe. 
Original Press Release
PE Scraper
Press release date: October 18, 2012
Electrofusion requires a clean surface and Reed offers a lightweight, reliable, and economical PE Scraper to get the job done. 
Reed's PE Scraper removes dirt and oxidation from the outside diameter of the pipe in preparation for the electrofusion process.  Its spring-loaded blade does not skip as it keeps consistent pressure on the pipe to yield a smooth, finished surface.  A minimal amount of PE is scraped away to reveal the clean pipe. 
Additionally, Reed's PE Scraper can be used on the edge of the pipe, but also anywhere along the length.  Six inch (150 mm) clearance is needed for turning the PE Scraper around the pipe.
www.reedmfgco.com
/index.html?screen=pe_scraper
Marnie L. Caldwell
Manager-Marketing Services
Reed Manufacturing Co.
mcaldwell@reedmfgco.com
voicemail:  814-452-3691 x1110
www.reedmfgco.com