Product News: Laboratory and Research Supplies & Equipment
Particle Sizing Instruments use diffusion barrier method.
Press Release Summary: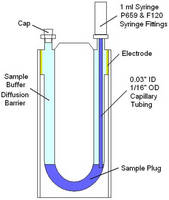 September 6, 2011 - Zetasizer products eliminate protein denaturation when measuring zeta potential using electrophoretic light scattering (ELS). Utilization of U-shaped disposable capillary cell promotes accuracy and repeatability of zeta potential results for proteins. Diffusion barrier method protects protein by keeping it away from electrodes within pool of buffer, preventing aggregation thereby ensuring measured zeta potential is only that of native protein.
Original Press Release
Malvern's Novel Diffusion Barrier Zeta Potential Method Improves Protein Characterization
Press release date: August 26, 2011
Malvern, UK: Malvern Instruments has developed a new diffusion barrier method to eliminate protein denaturation when measuring zeta potential using electrophoretic light scattering. Utilising a U-shaped disposable capillary cell, the new method delivers significant improvement in the accuracy and repeatability of zeta potential results for proteins. Ultimately, the method makes protein characterization with Malvern's Zetasizer range even easier. A new application note explaining the technology and its applications is available at www.malvern.com/protein-zeta-potential-appnote Zeta potential, which is a property of molecules and particles in suspension related to the surface charge, helps predict the stability of emulsions and colloids and also proteins in solution. Zeta potential measurement of proteins has always been challenging because of the tendency for aggregation to occur at the electrodes during the application of the electric field. When aggregates form, the measured result will be the zeta potential of the aggregates, which can be markedly different from the zeta potential of the native protein. The diffusion barrier method protects the protein by keeping it away from the electrodes within a pool of buffer. This prevents aggregation and by eliminating this issue means the measured zeta potential is only that of the native protein. By eliminating protein aggregation, the diffusion barrier method improves the quality and accuracy of protein zeta potential measurement. A multi-media presentation on the Diffusion Barrier method developed by Malvern Instruments is freely available through Malvern's online knowledge base at: www.malvern.com/protein-zeta-potential Malvern, Malvern Instruments and Zetasizer are registered trademarks of Malvern Instruments Ltd About Malvern Instruments Malvern Instruments is a market leader in measuring performance controlling material properties. These include particle size, particle shape, zeta potential, molecular weight, size and conformation, rheological properties and chemical identification. Malvern delivers the systems, support and expertise that ensure the analytical integrity and productivity needed to drive research, development and manufacturing. Malvern's measurement solutions for scientists, technologists and engineers advance continually through customer collaboration. Complementary materials characterization systems deliver inter-related measurements that reflect the complexities of particulates and disperse systems, nanomaterials and macromolecules. Combining intelligently implemented technologies with in-depth industry applications knowledge and support, Malvern provides customers with the competitive advantage they demand. Headquartered in Malvern, UK, Malvern Instruments has subsidiary organizations in all major European markets, North America, China, Japan and Korea, a joint venture in India, a global distributor network and applications laboratories around the world. www.malvern.com