Product News: Test & Measuring Instruments
Particle Size Analyzer measures from 10 nm to 3.5 mm.
Press Release Summary: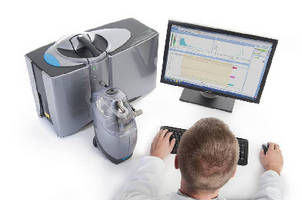 March 27, 2012 - Utilizing laser diffraction, Mastersizer 3000 delivers precise wet and dry sample measurement with accuracy better than 1%. System features effective focal length of 300 mm, data acquisition rate of 10 kHz, and typical measurement time of less than 10 seconds. Sample dispersion units provide solution for every application, including dry dispersion of fragile particles, while intuitive software drives user-defined measurements.
Malvern Instruments - Westborough, MA
Original Press Release
Mastersizer 3000 Particle Size Analyzer Makes Analytica Debut
Press release date: March 15, 2012
Analytica 2012; Stand No. A1.320 Malvern, UK: Malvern Instruments' new Mastersizer 3000 laser diffraction particle size analyzer will make its Analytica debut on Stand No A1.320 (April 17-20, Munich). This state-of-the-art, small footprint instrument is designed for smart particle sizing, delivering precise, high-resolution wet and dry sample measurement from 10 nm to 3.5 mm. New sample dispersion units provide a solution for every application, including the dry dispersion of fragile particles, while simple intuitive software drives user-defined measurements and simplifies method development. Malvern's Morphologi G3 particle characterization system will also be on show. Understanding particle shape can have a significant impact upon the performance and process handling of many particulate materials. The Morphologi G3 image analysis system delivers both particle size and shape information, providing a wide range of morphological parameters for even greater detail in the analysis of particulate materials. Malvern also has extensive expertise in the area of dispersion stability and is the only company whose analytical instruments cover the full array of measurements necessary for its comprehensive determination - this includes particle size and shape measurement, zeta potential and rheological parameters. As well as having the opportunity to discuss dispersion stability issues with Malvern's expert teams at Analytica, visitors to the Malvern stand can find out more about the application of particle and molecular characterization using dynamic light scattering with the Zetasizer series and Viscotek GPC/SEC systems, dynamic imaging with the Sysmex FPIA-3000, and Kinexus rheometers for the measurement of a wide variety of rheological parameters. New this year at Analytica, visitors will also be able to see the Mastersizer 3000 in action in the polymer section of the Analytica Live Lab in Hall B1 throughout the show. Visit Malvern at Analytica 2012, Stand No. A1.320, or for more details of Malvern's materials characterization solutions please visit www.malvern.com Malvern, Malvern Instruments, Mastersizer, Morphologi, Zetasizer and Viscotek are registered trademarks of Malvern Instruments Ltd About Malvern Instruments
Malvern Instruments is a market leader in measuring performance controlling material properties. These include particle size, particle shape, zeta potential, molecular weight, size and conformation, rheological properties and chemical identification. Malvern delivers the systems, support and expertise that ensure the analytical integrity and productivity needed to drive research, development and manufacturing. Malvern's measurement solutions for scientists, technologists and engineers advance continually through customer collaboration. Complementary materials characterization systems deliver inter-related measurements that reflect the complexities of particulates and disperse systems, nanomaterials and macromolecules. Combining intelligently implemented technologies with in-depth industry applications knowledge and support, Malvern provides customers with the competitive advantage they demand. Headquartered in Malvern, UK, Malvern Instruments has subsidiary organizations in all major European markets, North America, China, Japan and Korea, a joint venture in India, a global distributor network and applications laboratories around the world. www.malvern.com