Product News: Controls & Controllers
Parallel Positioning System offers 1,000 lb load capacity.
Press Release Summary: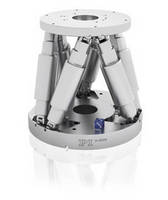 July 22, 2014 - Supplied with C-887 hexapod multi-axis vector controller and software package, 6-axis Model H-850KMLD provides 1 µm minimum incremental motion over 100 mm travel range in XY and 0.5 µm in Z direction. Repeatability in 3 linear axes is ±1 µm, and ±5 µrad/9 µrad in rotary axes. Applications include precision manufacturing and automation, astronomical telescopes, optics alignment, satellite antenna alignment, high energy physics, and semiconductor manufacturing.
PI (Physik Instrumente) L.P. - Auburn, MA
Original Press Release
New High Load Hexapod 6-Axis Parallel Positioning System
Press release date: July 15, 2014
Auburn, MA –Precision Motion specialist PI (Physik Instrumente) introduces a new 6-axis positioning system with 1000lbs load capacity.
The new H-850KMLD hexapod system provides 1µm minimum incremental motion over a 100mm travel range in XY and 0.5µm in the Z direction. The repeatability in the 3 linear axes is ±1µm, and ±5µrad / 9µrad in the rotary axes.
Hexapod Applications:
Precision manufacturing and automation
Astronomical telescopes
Satellite antenna alignment
Optics alignment
Medical tumor treatment and surgery
High energy physics
Aerospace
Semiconductor manufacturing
Photonics components manufacturing
More information on the new high load hexapod 6-axis parallel positioner:
http://www.physikinstrumente.com/en/news/fullnews.php?newsid=181&onl
All PI hexapods are delivered with a special hexapod controller, an extensive software package and are very easy to use and integrate. The dedicated C-887 hexapod multiaxis-vector controller is commanded directly in Cartesian coordinates. The user can specify a random pivot point in space with a single software command, a feature that is critical in automated optical and mechanical alignment applications. LabVIEW and text-based programming languages under Microsoft Windows or Linux are supported by libraries and program examples.
Loads Above 2000 lbs
For even higher loads above 2000lbs. standard H-845 and custom hexapods are available. PI recently installed a new 4500 square ft production and test facility for heavy duty 6-Axis motion systems capable of moving loads of up to 5 metric tons with sub-micrometer precision.  A giant swivel and lift platform and interferometers are used to test the hexapod with its load in place under the exact mounting conditions of the customer's application.
About PI USA
PI is the leading manufacturer of micro-precision and nano-precision hexapods and parallel positioning systems in the world. For example, 50 of PI's hexapods align reflectors in the ALMA (Atacama Large Millimeter Array) observatory, the world's most advanced radio telescope located in Chile.
Globally, PI employs more than 750 people.  In the US, PI has been present with a direct office for 3 decades.  PI USA is certified by ISO 9001:2008,  ISO 14001:2004,  OHSAS 18001: 2007 and ITAR TCP, DoS registered