Product News: Mounting & Attaching Products
Parallel Kinematic Positioning System provides 6-axes of motion.
Press Release Summary: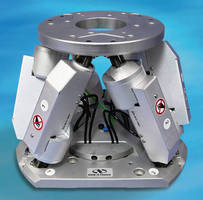 September 10, 2012 - With no moving cables or accumulation of errors, HXP50 hexapod serves motion applications requiring complex combinations of rotation and linear motion, high load capacity, and repeatability in up to 6 independent axes: X, Y, Z, pitch, roll, and yaw. System, driven by 6 DC servo-motor-driven actuators with encoder feedback at lead screw nut, offers 2 virtual and programmable pivot points. It can be configured for specific tooling needs.
Original Press Release
Newport Introduces 6-Axis-Parallel Kinematic Positioning System - HXP50 Hexapod
Press release date: September 6, 2012
Irvine, CA - Newport Corporation, a worldwide leader in laser and photonic solutions that Make, Manage and Measure Light®, introduces the advanced HXP50 hexapod, a parallel kinematic motion device that provides 6-axis axis of motion: X, Y, Z, pitch, roll, and yaw. Compact but rigid, the new hexapod is ideal for motion applications that require complex combinations of rotation and linear motion, high load capacity, and repeatability in up to six independent axes. Newport's new hexapod is affordable and easy-to-use, has no moving cables, features high stiffness (especially in the z-axis), no accumulation of errors, and two virtual and programmable pivot points. It is ideal for applications in optics and satellite assembly and testing, alignment of sensors and waveguides, X-ray diffraction, micromachining, micro-manipulation, and more.

Highly versatile, the HXP50 hexapod can be configured for specific tooling needs. The HXP50 is driven by six DC servo-motor-driven actuators with encoder feedback at the lead screw nut, providing fine MIM, low backlash, and high speed. Another innovation is in the spherical joints that connect the actuator to the top and bottom plates. The joints are simple, yet enhance the rigidity of the hexapod to deliver improved accuracy and robust motion performance.

For more information about Newport's new HXP50 hexapod, please visit http://www.newport.com/HXP50.

About Newport Corporation

Newport Corporation is a leading global supplier of advanced-technology products and systems to customers in the scientific research, microelectronics manufacturing, aerospace and defense/security, life and health sciences and precision industrial manufacturing markets. Newport's innovative solutions leverage its expertise in high-power semiconductor, solid-state and ultrafast lasers, photonics instrumentation, sub-micron positioning systems, vibration isolation, optical subsystems and precision automation to enhance the capabilities and productivity of its customers' manufacturing, engineering and research applications. Newport is part of the Standard & Poor's SmallCap 600 Index and the Russell 2000 Index.

Company Contacts: Kim Abair Director, Global Marketing Tel: 800-222-6440 / +1 949-863-3144 E-mail: kim.abair@newport.com

Beda Espinoza Sr. Manager, Motion Products Tel: 949-253-1247 E-mail: beda.espinoza@newport.com

Marlene D. Moore Advertising · Marketing · Public Relations - for Advanced Technologies 818-708-1704 / Fax: 818-344-7179 Cell: 818-512-6090 marlene@smithmillermoore.com