Product News: Computer Hardware & Peripherals
Panel PC features Intel Atom D2550 dual-core processor.
Press Release Summary: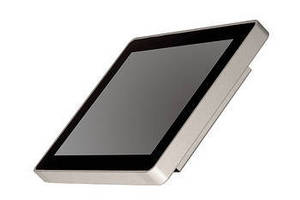 December 11, 2012 - Based on 1.86 GHz D2550 processor and Intel NM10 chipset, EUDA2 comes standard with 12.1 or 15 in. true flat projected capacitive multi-touch display. Unit has wide DC input of 12–24 V ±20% and auto loss power-on feature in event of power failure. Aluminum tooling, heat sink, and thermal pad makes EUDA2 truly fan free and cool running. Ready for VESA mounting, IP54-rated PC includes HDD tray, I/O board docking, Golden Finger connector, and RS-232/433/485 port selectable via BIOS.
American Portwell Technology - Fremont, CA
Original Press Release
Portwell Releases a Stylish and Interactive Panel PC Series with Intel Atom Dual-Core Processor D2550
Press release date: December 4, 2012
FREMONT, CALIF. — American Portwell Technology, Inc., (http://www.portwell.com) a wholly owned subsidiary of Portwell, Inc., a world-leading innovator in the Industrial PC (IPC) market and a Premier member of the Intel Intelligent Systems Alliance, announces the release of the EUDA2 Panel PC, based on the Intel Atom dual-core processor D2550 1.86 GHz and the Intel NM10 chipset. The EUDA2 comes standard with a true flat projected capacitive multi-touch display. With its ultra-slim and lightweight aluminum tooling, it is rugged yet stylish. Its cable-less design, HDD tray and wide DC input range add to its flexibility and durability.  The COM port and I/O board docking are selectable via BIOS.  Furthermore, it is compliant with VESA mounting standards, which further testify to the universality of the EUDA2. While it also comes equipped with Application Programming Interfaces (APIs) and EtherCAT support, many of the attributes and versatility of the EUDA2 make it the ideal solution for Industrial Automation, Kiosk, and Human Machine Interface (HMI) applications.

Stylish, Rugged, and Interactive
The EUDA2 is compact, 50mm thick and a 12.1" or 15" display. With its multi-touch and stylish industrial design combined with a painted and seamless assembly, the EUDA2 is capable of operating in a 0° to 50° C temperature range. Additionally, it is resistant to vibrations up to 1G and shock up to 15G.

Simple, Intelligent and Cool
Less is more. At a weight of less than 4kg, the EUDA2 is ready for VESA mounting. Its true flat touch screen and IP54 protection make cleaning easy. Moreover, it has an easily removable back cover, HDD tray and CF cover. In addition, EUDA2 comes equipped with I/O board docking, a Golden Finger connector and a RS-232/433/485 port selectable via BIOS for the use of peripheral legacy devices.

Only the best components went into the design of the EUDA2. The low power Intel Atom D2550 CPU and Intel NM10 chipset platform utilize only 40W when operating and 8W while in sleep mode. It also has a wide DC input of 12~24V (±20%) and an auto loss power-on feature in the event of power failure. Furthermore, with its aluminum tooling, heat sink and thermal pad, the EUDA2 is truly a fan free and cool-running system.

Efficient and Integrated
EUDA2 offers a full HD video decoder to deliver greater graphics performance. Additionally, APIs and EtherCAT efficiently support system integration of HMIs and Cloud Computing, which enable quick and efficient changes or updates by way of Internet when necessary.

The EUDA2's application oriented design may convince users to reconsider their traditional use of IPC products. Our rigid laboratory testing provides customers with the assurance of intuitive, friendly, modular flexibility, durability and seamless system integration.

At Portwell, we strive for excellence and the EUDA2 is merely another example of the multitude of superior products designed and manufactured at our facilities. We constantly challenge ourselves to understand our customers' unique business needs and are committed to meeting their demands.

Product details:
http://www.portwell.com/products/detail.asp?CUSTCHAR1=EUDA2-S1220
http://www.portwell.com/products/detail.asp?CUSTCHAR1=EUDA2-S1520

About American Portwell Technology
American Portwell Technology, Inc., is a world-leading innovator in the embedded computing market and a Premier member of the Intel® Intelligent Systems Alliance. American Portwell Technology designs, manufactures and markets a complete range of PICMG computer boards, embedded computer boards and systems, rackmount systems and network appliances for both OEMs and ODMs. American Portwell is an ISO 9001:2008, ISO 13485:2003 and ISO 14001:2004 certified company. The company is located in Fremont, California. For more information about American Portwell's extensive turnkey solutions and private-label branding service, call 1-877-APT-8899, email info@portwell.com or visit us at http://www.portwell.com.

All products and company names referred to herein may be trademarks or registered trademarks of their respective companies or mark holders.

Product Contact:
Sean Kang
Product Engineer
American Portwell Technology, Inc.
510-403-3361
seank@portwell.com

Media Contact:
Susan Wei
Marketing Executive
American Portwell Technology, Inc.
510-403-3354
susanw@portwell.com