Product News: Test & Measuring Instruments
Oxygen Permeability Tester works with flexible packaging.
Press Release Summary: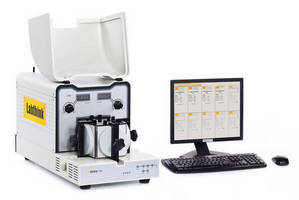 May 14, 2014 - Designed on principle of electrochemistry according to ASTM F1307 and ASTM D3985, i-Oxtra 7700 simultaneously possesses function of container and quantity testing of permeable oxygen, with testing accuracy up to 0.0001 ml/pkg /day. This flexible package testing instrument features oxygen cavity and can satisfy permeability testing for various kinds of plastic packaging. In additional to performing test in open air, instrument can complete testing with oxygen concentration of 100%.
Labthink International, Inc. - Medford, MA
Original Press Release
Permeability Testing of PET Beer Bottle
Press release date: May 13, 2014
How to perform the permeability test of plastic package? Since improving its permeability has become one of the main factors that limit the production, permeability index of the plastic package needs to be tested accurately either in the package research and development or mass production, which makes the choice of relating instrument a primary task. Oxygen permeability testing becomes absolutely necessary for all kinds of PET bottles that enter the beer package market.
The profile variety of plastic package brought great difficulty to auto gas permeability testing. There is indeed certain disparity between the estimation results obtained though the transmitted gas of bottle body and the actual testing result because property of the package material has changed during the process of production and package's thickness is non-uniform. Therefore, test the package permeation directly is of great significance.
Manufacturers that can provide package permeability testing are indeed rarity of rarities in the international market. Oxygen permeability tester i-Oxtra 7700 introduced by Labthink this year makes Labthink the first manufacturer of flexible package testing instrument. i-Oxtra 7700  is designed and manufactured based on the principle of electrochemistry according to the specification of ASTM F1307 , ASTM D3985 . It simultaneously possesses the function of container and quantity testing of permeable oxygen with a testing accuracy up to 0.0001 ml/pkg • day.
It is furnished with special oxygen cavity and can almost satisfy the permeability testing for all kinds of plastic package. Moreover, in additional to performing the test in open air, the instrument is able to complete the testing with an oxygen concentration of 100%, which can completely meet the requirement of ASTM F 1307. The long-term testing has proved that i-Oxtra 7700 has efficiently reduced the cost with its good data stability and the better reusability of its special package testing accessories.
Labthink International Inc.
200 River's Edge Drive
Medford, Massachusetts, 02155, U.S.A.
Phone: +1-617-830-2190
FAX: +1-781-219-3638
Email:
sales@labthinkinternational.com
Website:
http://www.labthinkinternational.com