Product News: Electrical Equipment & Systems
Overload Relays protect single and 3-phase motors.
Press Release Summary: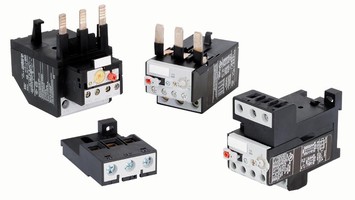 December 8, 2006 - Providing overload protection for single and 3-phase motors and phase loss protection for 3-phase motors, Series 320 Bimetallic Overload Relays mount directly to 9-105 A contactors and feature IP20 guarded terminals with combination head terminal screws. Dual IEC and NEMA terminal markings are included for wiring anywhere in world. With manual or automatic reset mode, multi-function reset button allows test function to be enabled, verifying control circuit functionality.
Control Concepts Corporation - Vanport, PA
Original Press Release
New IEC Overload Relays by c3controls
Press release date: December 4, 2006
c3controls Series 320 Bimetallic Overload Relays provide overload protection for single and three phase motors, and phase loss protection for all three phase motors. Other features like IP20 guarded terminals with dual terminal markings, integral stop button, and direct mounting will help you reduce you total installation costs and enhance the features and performance of your equipment. Overload relays by c3controls can be directly mounted to all contactors (9A ~ 105A). Separate mounting adapters are also available for installation on a 35mm DIN rail or panel. Combination head terminal screws allow the use of straight, phillips, or posidrive screwdrivers. Ambient temperature compensation ensures reliable motor protection even in high temperature environments. Overload relays are equipped with single-phase sensitivity to protect motors against damaging phase loss conditions. Dual IEC and NEMA terminal markings are included for ease of wiring anywhere in the world. c3controls equips them with a device identification marker for labeling, which simplifies troubleshooting in panels with many overload relays or starters. c3controls Series 320 Bimetallic Overload Relays feature a multi-function reset button enabling the user to select the reset mode - manual or automatic and whether or not to enable the test function. When the reset button is pressed, with the test function enabled, the Normally Open (NO) contact closes and the Normally Closed (NC) contact opens to verify the control circuit functionality. In addition, the NC contact can be used in a "Stop" circuit. With the test function disabled, the NO and NC contacts do not change state when the reset button is pressed - preventing unauthorized personnel from operating the control circuit. These multiple functions in the single device help you to reduce inventory and customize the overload relay operation to provide the performance and features you need for your specific application. This year marks c3controls' 30th year in industrial controls, which means celebrating thirty years of unparalleled quality, world-class customer care, best pricing, same-day shipping, satisfaction guarantee and an unsurpassed two-year warranty on your control purchases. About c3controls Founded in 1976, c3controls is the single source, and USA based manufacturer of choice for high-quality, lower-cost industrial controls. Their broad product portfolio consists of 30mm and 22mm pilot devices, 16mm and 13mm indicator lights, as well as contactors, overload relays, motor protection circuit breakers, disconnect switches, cam switches, terminal blocks, general purpose relays and proximity sensors. c3controls offers a competitive advantage for their customers as a single source for top-quality components at the lowest prices, with the best service in the market. c3controls serves both the ordinary and hazardous location markets. Based in Beaver, PA, the company is proud of its family-owned heritage. For more information about the company: Contact: Barb George Marketing Manager 724-775-7926 E22 bgeorge@c3controls.com Or Visit the Web at
www.c3controls.com