Product News: Laboratory and Research Supplies & Equipment
Overlay Metrology System supports multi-patterning techniques.
Press Release Summary: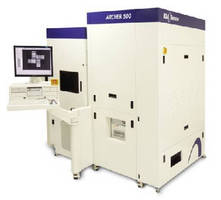 September 10, 2012 - Designed to address complex overlay challenges associated with single- and multi-patterning lithography techniques at advanced sub-28 nm design nodes, Archer(TM) 500 accurately measures and characterizes overlay error. Measurement speed and precision enable thorough overlay characterization on wafers after patterning to help verify that pattern features have been correctly aligned to previously-patterned features, located on either same layer or prior process layer.
Original Press Release
KLA-Tencor Announces New Archer(TM) 500 Overlay Metrology System
Press release date: September 5, 2012
Overlay Error Measurements for Development and High Volume Manufacturing of Multiple-Patterning Process Layers at Sub-28nm Design Nodes MILPITAS, Calif., -- Today KLA-Tencor Corporation (NASDAQ: KLAC) announced the Archer(TM) 500, a new overlay metrology system for leading-edge chip manufacturers. Designed to address the complex overlay challenges associated with single- and multi-patterning lithography techniques at advanced design nodes, the Archer 500 measures and characterizes overlay error with improved precision, accuracy and measurement speed compared to its predecessor, the widely adopted Archer 300. With significant contrast enhancements, the Archer 500 expands overlay measurement capability beyond current-generation lithography stacks to new lithography layers, including challenging thin resist stacks, and new materials such as opaque hard masks. "In order to continue scaling devices to meet Moore's law, chip manufacturers are extending 193nm immersion lithography using multi-patterning techniques and are assessing non-traditional patterning technologies, such as directed self-assembly," said Noam Knoll, vice president and general manager of the Overlay Metrology Division at KLA-Tencor. "In addition to increasing the number of required overlay measurements, lithographers' adoption and exploration of double-, triple-, quadruple- and other innovative patterning techniques at shrinking design rules drive very strict overlay specifications. Our new Archer 500 and innovative multi-layer overlay measurement target support today's complex patterning processes by providing lithographers with highly precise, fast feedback on layer-to-layer and within-layer overlay error. We believe the Archer 500 will serve a key role in enabling complete lithography overlay control for these advanced patterning technologies." Within the lithography cell, the Archer 500 serves as an independent source of overlay metrology data. The Archer 500's fast measurement speed and high precision enable thorough overlay characterization on wafers after patterning to help verify that pattern features have been correctly aligned to previously-patterned features, located on either the same layer or a prior process layer. For high volume manufacturing, the Archer 500 is designed to identify wafers with overlay error exceeding the required specifications, helping lithographers accurately disposition wafers and decide when to address variations in process tool performance. The advanced capabilities of the Archer 500 include: -- Tighter precision and total measurement uncertainty (TMU) compared to the previous-generation Archer 300, delivering the strict specifications required for overlay control on leading-edge devices;
-- Fast move-acquire-measurement (MAM) time and high throughput, allowing lithographers to take more measurements across the wafer for improved process characterization and control; and
-- A new, multi-layer design for the overlay metrology target, offering an innovative approach for measuring numerous combinations of intra- and inter-layer overlay data from the same target image on multi-patterning layers. Multiple orders have been received, including several repeat orders, for Archer 500 tools from leading logic and memory chip manufacturers. Systems have already been shipped for use in advanced development and production lines. Archer 500 models are designed to be matched among themselves and to previous-generation Archer 200 and Archer 300 systems, preserving the factory's baseline and enabling seamless, rapid production integration. The Archer 500 is part of KLA-Tencor's comprehensive overlay metrology solution, which also includes K-T Analyzer(TM), an advanced overlay analysis system, and Recipe Database Manager (RDM), a centralized database of production-proven recipe components. To maintain high performance and productivity, the Archer 500 tools are backed by KLA-Tencor's global, comprehensive service network. For more information on KLA-Tencor's Archer overlay metrology systems, please visit the product web page at: http://www.kla-tencor.com/metrology/archer-series.html. About KLA-Tencor:
KLA-Tencor Corporation, a leading provider of process control and yield management solutions, partners with customers around the world to develop state-of-the-art inspection and metrology technologies. These technologies serve the semiconductor, data storage, LED, photovoltaic, and other related nanoelectronics industries. With a portfolio of industry-standard products and a team of world-class engineers and scientists, the company has created superior solutions for its customers for more than 35 years. Headquartered in Milpitas, Calif., KLA-Tencor has dedicated customer operations and service centers around the world. Additional information may be found at www.kla-tencor.com (KLAC-P). CONTACT: Media Relations, Meggan Powers, Sr. Director, Corporate Communications, +1-408-875-8733, meggan.powers@kla-tencor.com Web Site: http://www.kla-tencor.com