Overhead Hood Ventilation System removes fumes, heat at source.
Press Release Summary: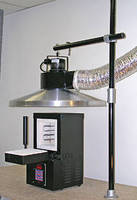 August 26, 2013 - Available in 27, 32, and 37 in. hood diameters and with 250 or 450 cfm exhaust blowers, table-top Vent-A-Fume systems capture toxic fumes and heat immediately at their source. Single-speed motor for cooler running and more efficient operation, and support stand facilitates installation as well as height adjustments of overhead hood. Standard hoods are fabricated from .063 gauge aluminum; stainless steel or polypropylene are available options. Square or rectangular shapes are also available.
Vent-A-Fume, A Div. of Vent-A-Kiln Corp. - Buffalo, NY
Original Press Release
Vent-A-Fume Announces Design Improvements to Bench Mounted, Overhead Hood Ventilation System for Use over Small Industrial Ovens, Lab Furnaces and Work Benches
Press release date: August 1, 2013
Small Industrial Ovens, Lab Furnaces and Work Benches
Vent A Fume
Improvements in its popular, low-cost, bench mounted, overhead hood-style ventilating system are announced by the Vent-A-Fume Division of Vent-A-Kiln Corporation, Buffalo, NY.
According to Brian Brandon, Vice-President of Engineering, "We changed from a 2-speed to a single-speed motor which runs cooler and is more efficient. We also designed a new support stand which simplifies installation and makes height adjustments of the overhead hood easier. And, of course, our 3-year warranty applies to all Vent-A-Fume systems."
The energy-saving, table-top Vent-A-Fume systems are said to be ideal for removing both toxic fumes and heat that usually escape from such applications as heat-treating furnaces & ovens and work-bench area welding & soldering operations.
Since the Vent-A-Fume's design enables fumes and heat to be captured immediately at their source, any process emissions can be exhausted quickly and efficiently to the outside of the work area or into any existing ductwork venting system. The extremely low-cost of Vent-A-Fume's Bench-Mounted Ventilator, starting at $395.00, makes it a far-more efficient answer to work-area ventilation than costly stationary, overhead ventilation hoods. Furthermore, the ease of installation makes relocating the Vent-A-Fume a simple job for in-house personnel.
The bench-mounted Vent-A-Fume is available in three hood diameters (27", 32" and 37") and exhaust blowers of 250 or 450 CFM. Standard hoods are fabricated from .063 gauge aluminum. Hoods are also available in stainless steel or polypropylene and in square or rectangular shapes. Each unit is supplied with a unique, adjustable height, bench-mounting bracket which enables easy positioning directly over a small oven, furnace, kiln or encaustic paint palette, and an outside hose kit with all necessary hardware for installation. Optional wall or ceiling mounting brackets are available.
For more information on the versatile bench-mounted Vent-A-Fume, contact Vent-A-Kiln Corporation, 51 Botsford Place, Buffalo, NY 14216. Phone: 877-876-8368. Fax: 716-876-4383. Email:
info@ventafume.com
. URL:
www.ventafume.com
. For detailed product information or to download a PDF file product sheet, visit
http://www.ventafume.com/content/pages/bench-mounted
Please address reader service inquiries at the above address to:
Brian Brandon, Vice President, Engineering • 877-8368 • 716-876-2023
Email:
info@ventafume.com
For electronic files or additional information, contact:
Paul V. Offermann, President, Harold Warner Advertising, Inc., 232 Delaware Ave., Buffalo NY 14202
Phone: 716-852-4410 • Fax: 716-852-4725 • Email:
paul.offermann@haroldwarner.com