Product News: Electrical Equipment & Systems
Outdoor Twin T5 Luminaires are built for energy efficiency.
Press Release Summary: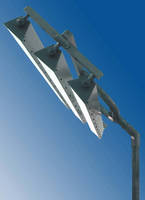 February 22, 2011 - Offered in symmetric and asymmetric designs, W2PT5048 and W3PT5048 Series are cantilevered, dual pole-mount luminaires that deliver instant-on, low-glare, white lighting. Uniformly distributed outward- and downward-aimed fluorescent lamps, 2 per luminaire, operate with 89% light-emitting performance. Attached to single vertical pole, 2/3/4 horizontal twin T5 fluorescent light housings can be stacked to project beyond their support fulcrum. Each lighthead consumes 53 W per twin T5 lamp.
Original Press Release
You Aren't Seeing Double, or Even Triple. You're Seeing More Clearly and Economically
Press release date: February 14, 2011
New Product Introduction: Magnaray® W2PT5048 and W3PT5048 Series - highly energy-conserving outdoor cantilevered dual pole-mount twin T5 luminaires.
Design: Larry Leetzow, IES, Lighting Consultant, and the Magnaray® In-House Lighting Design and Engineering Team.
Manufacturer: Magnaray® International, founded 1962.
Product Applications: W2PT5048 & W3PT5048 Series luminaires deliver major energy savings and long-lasting, low maintenance functional outdoor light, suited for a broad range of commercial, institutional, light industrial, military and governmental environs, in a lighting array unique to the industry.
These include automotive dealerships; parking lots and parking garages; entertainment and themed venues; government buildings and grounds; hospitals, clinics, physician office buildings; library, school and university campuses; military bases and facilities; office buildings, grounds and corporate parks; residential condominium and gated-community properties; transportation terminals; upscale retail stores, enclosed and strip malls; urban/suburban street and roadway lighting.
In short, wherever the need for high-performance, instant-on white-lighting of unusually efficient high coverage coincides with a want for exceptional energy conservation; long, durable operating life; fewer mounting poles needed with wider spacings; and negligible maintenance.
Product Description: W2PT5048 and W3PT5048 Series models are notable for striking cantilevered symmetric and asymmetric lighting designs, with stacked luminaires mounted to in-ground round or square poles. As in geometric architecture, two, three or four horizontal twin T5 fluorescent light housings can be stacked to project beyond their support fulcrum, attached to a single vertical pole. The design is unique and impressive. Light output is white, low-glare and unmatched in performance and long, low-cost operating life.
W2PT5048 and W3PT5048 Series provides highly energy-efficient, uniformly distributed out- and downward-aimed fluorescent lamps, two per luminaire, operating with 89% light-emitting performance with sharp cut-off and no wasted light. Each lighthead consumes only 53 watts per twin T5 lamp, 212 watts total in a dual-head stacked array, and 318 watts in a triple-head array.
These distinctive-appearing twin T5 light fixtures replace harsher, more energy-consuming, glare-producing high-pressure sodium, metal halide, mercury vapor, LED, induction or plasma pole-mounted fixtures. Retrofitting to these twin T5 lower wattage luminaires can produce energy savings for a single installation in the thousands, or tens of thousands of dollars per year. Up to 50,000+ hour lamp life and 90% maintained lumens are common.
Construction & Finishes: W2PT5048 and W3PT5048 Series luminaire housings are constructed from high quality clear anodized aluminum for lasting durability and corrosion resistance. Doorframes surround highly impact-resistant clear acrylic and a high-reflectance optically designed internal aluminum reflector. Optional low environmental-impact powder-coated finishes are standard in black, dark bronze, forest green or white. RAL standard or custom colors may be specified.
W2PT5048 and W3PT5048 Series are CSAUS Wet-Location listed, IP54 rated, sealed and gasketed, Made in America. IES photometric files available.
Magnaray® International is headquartered at 2242 Whitfield Park Loop, Sarasota, FL 34243. Telephone: (941) 755-2111. Fax: (941) 751-5483. Email: sales@magnaray.com. Visit Magnaray® on the World Wide Web at:
www.magnaray.com
.