Product News: Communication Systems & Equipment
Optical Filter targets beam steering applications.
Press Release Summary: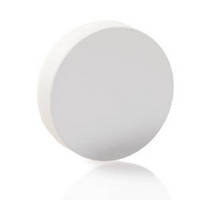 July 26, 2012 - With 6 mm substrate thickness, MaxMirror offers greater than 99% average reflectance from 350-1,100 nm for both S and P polarizations with 0-50° angle of incidence. Unit is available in 25 or 25.4 mm diameters with 90% clear aperture, 10-5 surface quality, and surface flatness better than 1/10th wave. Laser damage threshold is 6 J/cm² at 1,064 nm for 10 ns pulses.
Original Press Release
New MaxMirrors from Semrock
Press release date: July 16, 2012
ROCHESTER, N.Y. - Semrock, Inc., a world leader in the design and manufacture of spectrally complex optical filters, recently released their improved award-winning and patented ultra-broadband MaxMirror. Offering greater than 99% average reflectance from 350 nm - 1100 nm for both S & P polarizations with a 0° - 50° angle of incidence, the MaxMirror is the first choice for diverse and demanding beam steering applications. With a surface flatness better than 1/10th wave, a 10-5 surface quality and high laser damage threshold, the MaxMirror is designed from the glass up to be a low scatter, low absorbance mirror that reliably performs in your optical system. Continuing the Semrock tradition as the market leader in hard-coated optical filter technology, the new MaxMirror is offered at an amazing $99 price with an additional discount when purchased in quantities of ten or more.
- Ultra-broadband performance range from 350 nm - 1100 nm
- 99% average reflectance for S and P-polarizations
- Maintains performance over 0° to 50° angle of incidence
- Laser Damage Threshold: 6 J/cm2 at 1064 nm (for 10 ns pulses)
- 25 mm or 25.4 mm diameters with a 90% clear aperture specification
- Surface quality: 10-5 scratch-dig
- Surface flatness: < 0.1 (peak-to-valley at 633 nm)
- 6 mm substrate thickness, compatible with common mounts
For a limited time, with the purchase of ten MaxMirrors, you will receive a free gift while supplies last. Visit
www.semrock.com/semrock-maxmirrors.aspx
for more details or to place an order.
ABOUT SEMROCK:
Semrock, Inc., a Unit of IDEX Corporation, manufactures optical filters that set the standard in performance and reliability for the biotech and analytical instrumentation industries, as well as innovative optical filters for more general laser and optical systems applications. All Semrock optical filters are made with hard ion-beam-sputtered optical coatings. OEM filters are manufactured in volume. End-users benefit from a wide selection of standard catalog products that ship from stock. Semrock's patented and patent-pending products include its highly acclaimed BrightLine® fluorescence filters, state-of-the-art filters for Raman spectroscopy, and other unique filters for lasers and optical systems. Semrock's innovative products, made possible by combining modern ion-beam sputtering with Semrock's proprietary volume manufacturing technology, are covered under a five-year warranty.
Founded in September 2000, Semrock is based in Rochester, New York, a well-known center of optics, and has sales offices throughout the United States. In October 2008 Semrock became a Unit of IDEX Corporation. For additional information about Semrock, its products, and its team of international distributors, visit the company website at
www.semrock.com
.
CONTACT:
Amanda MacDonald
Marketing Communications Manager
3625 Buffalo Road, Suite 6
Rochester, NY 14624
Direct: (585) 594-7003
FAX: (585) 594-7095
amacdonald@idexcorp.com