Open Platform VMS Software provides collaborative environment.
Press Release Summary: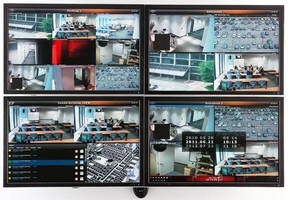 April 11, 2014 - Featuring Edge NVR framework, audit logging, and Critical Camera Failover technology, Ocularis v4.0 fosters Physical Security Information Management (PSIM) integration with video and access solutions. Ocularis Recorder Mix and Match feature allows all Ocularis recorder models to be combined in single VMS/PSIM system. Solution also enables integration of Powered by OnSSI NVR Appliances, and Access Control framework supports integration with Axis A1001 Network Door Controller.
On-Net Surveillance Systems, Inc. - Pearl River, NY
Original Press Release
OnSSI Takes a Major Leap in VMS Functionality with Ocularis 4.0
Press release date: April 2, 2014
Open Platform Architecture Enables New Recording and Integration Capabilities
Las Vegas, NV – OnSSI continues to lead the industry with innovative video surveillance and security system management technology with the latest release of Ocularis Version 4.0 here at ISC West. Ocularis 4.0 delivers new benchmarks in flexibility, scalability and cost-efficiency with a truly open platform that enables higher levels of Physical Security Information Management (PSIM) integration with industry leading video and access solutions.
Powerful new capabilities provided by Ocularis 4.0 include:
• Ocularis Recorder Mix and Match allows all Ocularis recorder models (RC-P, RC-I, RC-C, RC-L and RC-E) to be combined in a single Ocularis VMS/PSIM system • All new "Powered by OnSSI" NVR Appliances can be integrated into any existing or new Ocularis 4.0 VMS/PSIM system
• New Edge NVR framework supports Axis ACC Camera NVRs
• New Access Control framework supports integration with the Axis A1001 Network Door Controller
• New Patent Pending Critical Camera Failover technology ensures vital regions remain under surveillance
• Audit Logging enables administrators to easily see a history of operator actions
"Ocularis 4.0 transcends traditional VMS functionality with powerful new features engineered to deliver comprehensive video surveillance and PSIM capabilities with higher levels of integration. It also delivers unprecedented cost-efficiency with our new Mix and Match capability that allows for multiple, but different recording components within a single installation, which can provide significant cost savings," said Ken LaMarca, Vice President of Sales and Marketing, OnSSI. "By providing system solutions that enable better integration, scalability and cost-efficiency, Ocularis 4.0 takes video surveillance and security well beyond conventional VMS technology and one step closer to prevention."
Ocularis 4.0 provides integration with the A1001 Network Door Controller from Axis Communications, via the Axis Entry Manager. It allows critical video and access control data to be displayed side-by-side on the Ocularis platform, as opposed to viewing associated video with text overlays. This makes it easier for security personnel to monitor events in real-time and provides an added level of security by visually matching access cardholders with live images to ascertain identities. This seamless integration offers unique value by offering search engine functionality and access control event reporting.
Ocularis 4.0 Critical Camera Failover enables a camera to automatically take over for another camera if it goes down, ensuring continuous surveillance of critical areas. Additionally, if a recorder fails, the Ocularis Client can automatically switch cameras in a view to cameras from another recorder to maintain the same camera view.
The new Audit Logging feature is easy to use, color coded and a highly useful management tool in Ocularis 4.0 that allows system administrators to monitor all system activities performed by operators. Detailed reports can be easily accessed, viewed and generated to document all system activities for forensic use and employee performance/efficiency evaluations.
In addition to these new powerful features, Ocularis 4.0 offers comprehensive video surveillance and access control management for streaming, recording and managing an unlimited number of cameras at multiple sites combined with PSIM functionality. Ocularis 4.0's' straightforward workflow provides a collaborative environment in which video and alerts from across the organization are converted into meaningful events for efficient shared handling and documentation. Available in five feature sets that all employ 64-bit architecture for optimized performance, Ocularis 4.0 meets the video surveillance and security needs of organizations of all sizes and structures.
For more information on OnSSI, call 845-732-7900, e-mail
info@onssi.com
or visit
www.onssi.com
.
About OnSSI
OnSSI offers breakthrough VMS technology that's field proven at thousands of installations globally. The company's flagship Ocularis IP security and surveillance platform delivers open architecture, scalability and superior process automation. Ocularis is available as a stand-alone software solution, or pre-installed in best-in-breed servers to simplify implementation – with extreme cost-efficiency while affording future expansion. For remote applications, Ocularis Web and Mobile utilize OnSSI's High Definition Interactive Streaming (HDIS) provide the fastest and highest resolution mobile and web access video delivery solution available.