Product News: Electrical Equipment & Systems
Open Frame Power Supplies deliver 10, 15 and 30 W.
Press Release Summary: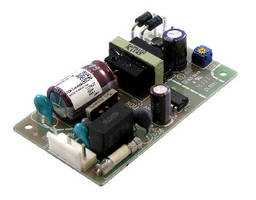 December 7, 2012 - Measuring 2 in. wide with profile of 1 in. or less, ZWS10-30B Series consumes less than 0.5 W under no-load conditions. Units operate from universal 85–265 Vac input and are available with 3.3, 5, 12, 15, or 24 Vdc output voltage, all of which are user adjustable by ±10%. ZWS10-30B Series can be operated at full load with convection cooling from -10 to +50°C ambient. When forced air cooling is available, ITE Certified power supplies can operate at full power up to +60°C without derating.
TDK-Lambda Americas Inc. - National City, CA
Original Press Release
TDK-Lambda Unveils ITE Certified 10 to 30-watt Switchers with Narrow 2-inch Width
Press release date: December 5, 2012
San Diego, CA – TDK Corporation announces the release of TDK-Lambda's new ZWS10-30B Series of open-frame, 2-inch wide power supplies, with output power ratings of 10, 15, and 30-watts.  These high-density, high efficiency, low profile power supplies are designed for a wide variety of applications including: Industrial, Test & Measurement, Communications, and Point-of-Sale Terminals/Displays.

Using innovative design techniques to combine high efficiency and power density, the ZWS10-30B Series consumes less than 0.5W under no-load conditions (0.2W typical). They feature a narrow width of 2 inches and a low profile of 1 inch or less depending on the output rating.  The 10W models are only 2.89" long, the 15W models are 3.44" long, and the 30W models are only 4.13" long.

Operating from a universal 85 to 265Vac input, these single output power supplies are available with a choice of output voltage, including of 3.3V, 5V, 12V, 15V, or 24Vdc.  All outputs are user adjustable by ±10%.  The ZWS10-30B Series can be operated at full load with convection cooling (no fans) from -10 to +50°C ambient temperature (up to +70°C with suitable derating).  When forced air cooling is available these supplies can operate at full power up to +60°C without derating.  Overvoltage and overcurrent protection are standard.

High quality electronic components are employed throughout, especially in the case of the electro-lytic capacitors, which have a 10-year lifetime.  As a result these supplies are delivered with an industry-leading warranty of 5-years.

With a 3kVac input to output isolation and an input to ground isolation of 2kVac, all models in the series are CE marked in accordance with the LV Directive.  These supplies carry a host of safety agency approvals including UL/CSA/EN60950-1, EN50178 (OV II), as well as compliance to EMI standards EN5011/EN5022-B, FCC Class B and VCCI-B for both conducted and radiated EMI.

The supplies are available now and priced from $22.00 each in 50 piece lots.  For more information, call TDK-Lambda Americas directly at 1-800-526-2324 or download the product datasheet from http://www.us.tdk-lambda.com/lp/ftp/specs/zws-b.pdf

A wide range of other TDK-Lambda power supplies and converters can viewed on this website:  http://www.us.tdk-lambda.com/lp

About TDK Corporation
TDK Corporation is a leading electronics company based in Tokyo, Japan. It was established in 1935 to commercialize ferrite, a key material in electronic and magnetic products. TDK's portfolio includes electronic components, modules and systems, which are marketed under the product brands TDK, and EPCOS, power supplies, magnetic application products as well as energy devic-es, flash memory application devices, and others. TDK focuses on demanding markets in the areas of information and communication technology and consumer, automotive and industrial electronics. The company has a network of design and manufacturing locations and sales offices in Asia, Europe, and in North and South America. In fiscal 2012, TDK posted total sales of USD 9.9 billion and employed about 79,000 people worldwide.

About TDK-Lambda
TDK-Lambda Corporation, a group company of TDK Corporation, is a leading global power supply company providing highly reliable power supplies for industrial equipment worldwide. TDK-Lambda Corporation meets the various needs of customers with our entire range of activities, from research and development through to manufacturing, sales, and service with bases in five key areas, cover-ing Japan, Europe, America, China, and Asia.

Mel Berman
Product Marketing Manager TDK-Lambda Americas Inc.
3055 Del Sol Blvd., San Diego, CA 92154 USA
Phone: 619-628-2859
mel.berman@us.tdk-lambda.com

www.us.tdk-lambda.com/lp