Product News: Computer Hardware & Peripherals
On-Machine, Flexible Block I/O collects variety of signals.
Press Release Summary: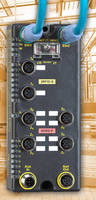 December 14, 2012 - Accommodating up to 2 signals types in any combination, BL compact™ makes it possible to obtain analog, digital, thermocouple, RTD, serial, RFID, or mixture of signal types in machine-mountable device over Ethernet. Drop-in solution, available with 4, 8, or 16 ports, comes in IP68/IP69K package and may be customized to suit specific needs. Functionality allows users to employ one device for 2 Ethernet protocols, including EtherNet/IP™ and Modbus™ TCP.

Original Press Release
TURCK BL Compact(TM) On-Machine, Flexible Block I/O Simplifies Communication Needs for Industrial Ethernet
Press release date: December 12, 2012
Minneapolis, MN–TURCK announces BL compact™ on-machine, flexible block I/O for Industrial Ethernet. BL compact is a revolutionary I/O solution for collecting a variety of signals in a single, rugged node on a network. Rather than routing all signals through a control cabinet, this device makes it possible to obtain analog, digital, thermocouple, RTD, serial, RFID or a mixture of signal types in a compact, machine-mountable device over Ethernet.

Up to two signals types can be combined in any combination in BL compact, including, but not limited to, RFID and analog and digital and serial. BL compact may be customized to suit a user's specific needs, allowing devices to be added to an existing network and signals gathered on the machine without an enclosure. This drop-in solution can be used to connect up to 16 devices, which significantly reduces the time it takes to run wires for each device back to the control cabinet and the potential for wiring errors.

"With the ability to employ two protocols in a single device, BL compact enables our customers to experience a more streamlined, simplified Industrial Ethernet solution," said Chris Vitale, Senior Product Manager, TURCK. "This simplicity, combined with the flexibility to mix and match I/O types, allows their own end user base to efficiently satisfy diverse applications that may require different Industrial Ethernet protocols."

BL compact is part of TURCK's unified Multiprotocol product portfolio, which enables users to employ one device for two Ethernet protocols, including EtherNet/IP™ and Modbus™ TCP. This simplifies operations by allowing multiple protocols to exist within a single device, yet only permits one Ethernet master to control the outputs while the input and diagnostic data is available to the other protocols. BL compact provides several I/O configuration options, including 16 M8 connectors for digital I/O with no splitters and an eight port M12 station for flexible operation.

BL compact is currently available with four, eight or 16 ports in an environmentally rugged package that is rated for IP68 and IP69K protection. M8 or M12 connectors for bus communication and auxiliary power facilitate easy installation into any application, existing or new.

TURCK is an industry leader providing superior quality sensing, connectivity and network products to help manufacturers improve their automated processes. For other TURCK product or technical information, contact:

Next Communications, Inc.
10249 Yellow Circle Drive • Suite 100 • Minnetonka MN • 55343 952.934.8220