Product News: Sensors Monitors & Transducers
Oil and Gas Subsea Tree addresses deepwater challenges.
Press Release Summary: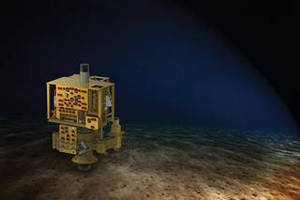 September 3, 2014 - Rated for depths to 3,000 m, Deepwater Vertical Xmas Tree (DVXT) helps improve cycle times while ensuring quality and safety. Subsea product, deployed with SemStar5-R remote electronics canister, incorporates communication technology and is designed with objectives of higher subsea reliability, extended service life, and improved environmental monitoring. With communications out to 220 km at depths of up to 3,000m, ModPod subsea control module enables flexible communications network.
General Electric Company - Fairfield, CT
Original Press Release
Making the Complex Simple. Latest Addition to GE Oil & Gas' Subsea Trees Portfolio Addresses the Challenges of Deepwater
Press release date: August 26, 2014
New Deepwater Vertical Xmas Tree (DVXT) Rated for Depths of up to 3,000 Meters, Providing Customers with a Solution to Meet the Challenges of Deepwater Projects
A Standardized Product, GE Oil & Gas' DVXT Has Been Designed to Reduce Delivery Lead Times
With the Objectives of Higher Reliability and Extended Service Life, the DVXT is Deployed with the SemStar5-R, GE's Next-Generation Remote Electronics Canister
STAVANGER, NORWAY — When iconic innovator and GE founder, Thomas Edison, said "I find out what the world needs. Then I go ahead and try to invent it," little did he realize that, many decades later, the business would continue to heed this philosophy.
Today, GE Oil & Gas' (NYSE: GE) engineers and technologists remain firmly in agreement that, through technology, expertise, innovation and working closely with their customers, they can develop solutions to meet the ever more challenging operational environments that are characteristic of today's exploration and production (E&P) activity.
This was the overarching message at the launch of GE's Deepwater Vertical Xmas Tree (DVXT), unveiled today at the company's new, interactive Technology Solutions Center in Stavanger, in conjunction with the Offshore Northern Seas (ONS) 2014 conference and exhibition.
The latest addition to GE Oil & Gas' comprehensive range of subsea products is rated for depths of up to 3,000m and expands the company's portfolio of pre-engineered, pre-qualified modular systems, designed to enable products to be brought to market faster.
"There is a rising sense in the oil and gas industry that many of the challenges faced today can be addressed by leveraging standardized products and solutions in order to simplify processes and reduce lead times," said Chris Phebus, Engineering Executive for Subsea Systems at GE Oil & Gas. "By offering our DVXT as a standard product, we can not only improve cycle times, but also ensure the highest levels of quality, safety and reliability for our products."
Deployed with the company's next-generation remote electronics canister—the SemStar5-R—the DVXT incorporates the latest in communication technology and is designed with the objectives of higher subsea reliability, extended service life and improved environmental monitoring. Already a market leader with communications out to 220km, at depths of up to 3,000m, the ModPod subsea control module is designed to complement the DVXT's modular layout and enables an even more flexible communications network—a key ingredient for future field expansion and enhanced access to remote wells.
Mike Wenham, Subsea Trees Senior Application Engineer, GE Oil & Gas, said: "Just a few decades ago, the idea of producing oil at depths of more than just a few hundred feet would have been unthinkable. Now, the ocean's depths are the key to meeting the rising global demand for energy in this age of complex fuel. As an industry, we need to make sure we stay focused on both the future and the now, working to address the challenges of deepwater development.
"The launch of our new DVXT is a great example of this, providing customers with a leading-edge production system that enhances our subsea trees portfolio to meet current and future needs, and enabling us to offer the industry a tree to meet any of its challenges, regardless of depth."
GE Oil & Gas is exhibiting in Hall D, Booth #454 during ONS2014. For more information about the company's new Technology Solutions Center, opened by GE Oil & Gas President and CEO, Lorenzo Simonelli, on August 25, use the GE Newsroom.
About GE
GE (NYSE: GE) works on things that matter. The best people and the best technologies taking on the toughest challenges. Finding solutions in energy, health and home, transportation and finance. Building, powering, moving and curing the world. Not just imagining. Doing. GE works. For more information, visit the company's website at
www.ge.com
.
About GE Oil & Gas
GE Oil & Gas works on the things that matter in the oil and gas industry. In collaboration with our customers, we push the boundaries of technology to bring energy to the world. From extraction to transportation to end use, we address today's toughest challenges in order to fuel the future. Follow GE Oil & Gas on Twitter
@GE_OilandGas
.
Media contacts:
GE news
Masto Public Relations
Email:
information@mastopr.com
Ivar Simensen*
Communications Manager, Norway - GE Oil & Gas
Phone: +47 67213689
Mobile: +47 46402317
Email:
ivar.simensen@ge.com
Tom Murnane
Masto Public Relations
Phone: +1 518 786 6488
Email:
tom.murnane@mastopr.com