Product News: Computer Hardware & Peripherals
OEM Lighting Controls include touch and remote options.
Press Release Summary: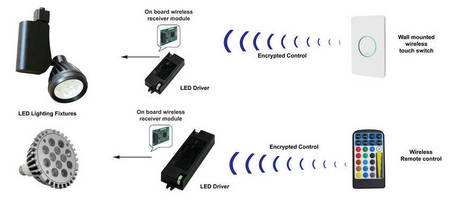 May 6, 2013 - Suited for home or office lighting applications, LED lighting remote control lets users to switch lights on and off and use dimming features. Remote is powered by 3 V button-cell battery and has range of up to 23 ft when pointed directly at IR receiver. Offering same functionality as remote controls, wall-mounted touch control pads can be wall-mounted up to 33 ft away from receiver. Suitable lighting applications include medical facilities and clean rooms.
Original Press Release
Phihong Announces LED Lighting Power & Dimming Controls for OEM Customers
Press release date: April 23, 2013
New OEM lighting controls include touch & remote options, providing customers with a user-friendly, value-added experience
Fremont, CA – Phihong USA, a leading global supplier of OEM power solutions, has expanded its series of remote access tools for OEM LED lighting applications to include both touch controls and remote controls. The new services enable OEM customers to offer value-added, convenient control options for a broad range of both residential and commercial LED lighting products, which can boost sales by providing an enhanced end-user experience.
"Phihong provides manufacturers with complete, efficient, and user-friendly lighting control systems that are customized to their specific needs," said Keith Hopwood, vice president of Phihong USA. "These services help lighting designers avoid potential roadblocks during the development process, such as trouble linking a remote control to an LED driver, and decrease a product's overall time to market." 
Phihong's LED lighting remote control enables users to switch lights on and off and use dimming features with the simple click of a button, making them perfect solutions for home or office lighting applications. The slim remote is powered by a 3V button-cell battery and has a range of up to 7 meters (23 feet) when pointed directly at the IR receiver.
Phihong also offers wall-mounted touch-key controls with the same functionality as the remote controls.  Touch control pads may be wall-mounted up to 10 meters (33 feet) away from the receiver and are ideal for wide range of lighting applications, including medical facilities and clean rooms.
The touch and remote lighting controls are a part of Phihong's custom LED Lighting solutions, which are available only to OEM customers. For technical specifications, ordering information, or information about our other OEM partner services, please contact Phihong USA sales.
Visitors to LIGHTFAIR® International, April 21-25 in Philadelphia, PA, can also learn more about this and other products by visiting Phihong at booth #2823.
About Phihong
As a world leader in the development of world class power solutions, Phihong is one of the leading suppliers of adapters, power supplies, LED drivers and Power-over-Ethernet products to OEMs serving datacom, telecom, personal electronics, networking, lighting, and industrial markets. Phihong has a truly global reach with design labs, manufacturing facilities and sales support centers in California, New York, The Netherlands, China, Japan and Taiwan. For more information contact Richard Huang, Phihong USA Corporation, 47800 Fremont Blvd., Fremont, CA 94538, or call (510) 445-0100, fax (510) 445-1678,
usasales@phihongusa.com
or visit
http://www.phihong.com/LED
.