Product News: Controls & Controllers
Non-Contact Level Meter targets solids applications.
Press Release Summary: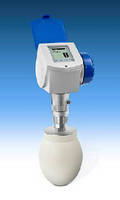 July 22, 2014 - With frequency modulated continuous wave radar technology, DR6300 Series provides distance, level, volume, and mass measurement of powders, granulates, and other solids. Non-contact, 2-wire, k-band meter offers choice of touchscreens, including tank illustration, bar graph, oscilloscope, signal, and reflectivity screen. Available with drop antenna or horn antenna, device has measuring range of 260 ft and will operate up to flange temperature of 290°F and pressures of 580 psig.
Original Press Release
Ametek Drexelbrook® Offers Non-Contact Level Measurement Solution for Solids
Press release date: July 17, 2014
DR6300 Series Radar Level Meter Engineered Specifically For Powders, Granulates and Other Solids
HORSHAM, PA — AMETEK Drexelbrook®, the leader in level measurement technology, has added the DR6300 Series non-contact level meter for distance, level, volume and mass measurement of powders, granulates and other solids.
The frequency modulated continuous wave (FMCW) radar technology of the DR6300 offers superior signal processing capabilities and gives a more stable measurement than pulse radar. It is well suited for dusty process conditions and is the only non-contact, 2-wire, k-band (24…26GH2) FMCW radar level meter specifically engineered for solids applications.
The DR6300 incorporates state-of-the-art features, such as an easy-to-navigate display with choice of touch screens (tank illustration, bar graph, oscilloscope, signal and reflectivity screen), easy installation and setup. Users simply fit the 2-wire level meter to a silo, tank or storage vessel, wire it up and turn it on.
The meter tests itself to make certain its electronics are working perfectly. An installation wizard, developed by Drexelbrook specifically for solids, allows the DR6300 to measure uneven surfaces accurately and walks the user through a series of simple questions to define the storage container and product measured.
The meter features a unique drop antenna design for extreme coating environments. The drop antenna's ellipsoidal shape prevents build-up in dusty applications. It generates a small beam angle for accurate measurement of silo contents. The drop antenna is available in two antenna sizes (DN80 or DN150) and is made of either polypropylene (PP) or polytetrafluoroethylene (PTFE).
The DR6300 also is available with a metal horn antenna, which is recommended for measuring granulates, for use in cement works or processes with cyclone separators, and for high-pressure and high-temperature applications. Meters with horn antennas are particularly resistant to mechanical shocks. Made of stainless steel 3166, horn antennas are available in four sizes (DN80, DN100, DN150, DN200).
Drop or horn antennas can be extended to suit any nozzle length.
The DR6300 is especially suited for buffer silos, hoppers, bulk storage containers and conveyer belts and has application in the iron, steel and metals industries; food, pulp and paper, and chemical applications; and mining and minerals industries.
The DR6300 can operate at very low and very high process temperatures as long as process connection temperature limits are observed. The device will operate up to a flange temperature of 290°F / 200°C and pressures of 580 psig / 40 bar. It has a measuring range of 260 feet or 80 meters.
AMETEK Drexelbrook is an acknowledged leader in level measurement with more than 50 years of experience.  Its level measurement solutions include RF Capacitance / Admittance, TDR/GWR, Radar, Ultrasonic, Magnetostrictive, Hydrostatic, Vibration, Conductive and Float devices used in a wide range of industries.
AMETEK Drexelbrook is a unit of AMETEK, Inc., a leading global manufacturer of electronic instruments and electromechanical devices with annual sales of $3.6 billion. For more information, contact AMETEK Drexelbrook, 205 Keith Valley Road, Horsham, PA 19044. 
Telephone:  215-674-1234 or Fax: 215-674-2731. 
Website: 
www.drexelbrook.com