Product News: Controls & Controllers
NMOS Low-side Driver replaces Darlington transistor arrays.
Press Release Summary: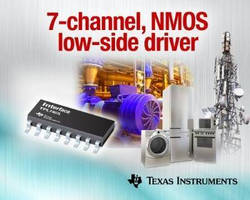 July 3, 2014 - With 600 mA drain current per channel, 7-channel Model TPL7407L drives LED matrix, relay, or stepper motor in high-voltage applications, such as white goods, building automation, lighting, and HVAC. Integrated circuit offers 40 V output and very low output leakage of less than 10 nA per channel. Available in 16-pin SOIC and TSSOP packages, IC operates from -40 to 125°C and includes internal free-wheeling diodes for inductive kick-back protection.
Texas Instruments Incorporated - Dallas, TX
Original Press Release
First 7-channel, NMOS Low-side Driver Replaces Darlington Transistor Arrays in High-voltage Systems
Press release date: June 25, 2014
Drop-in compatible relay driver reduces power, cost and board space
DALLAS, -- Texas Instruments (TI) (NASDAQ: TXN) today introduced the industry's first seven-channel, NMOS low-side driver, replacing standard Darlington transistor arrays with a power-efficient, drop-in compatible integrated circuit (IC). The TPL7407L replaces half of the transistor arrays required to drive high current loads, providing a new option for high voltage systems that previously required a number of transistor arrays or a motor driver. Reducing power by 40 percent, this new device efficiently drives the LED matrix, relay or stepper motor in high-voltage applications, such as white goods, building automation, lighting and HVAC. For more information or to order samples and an evaluation module, visit
www.ti.com/tpl7407l-pr
.
The TPL7407L complements TI's broad portfolio of peripheral drivers, covering a wide voltage and current range, giving designers the ability to choose a device to suit their needs without extensive system redesign. When used with the SN74HC595 register, one or multiple TPL7404 can be controlled with just three GPIO pins, providing a flexible, efficient solution.
Key features and benefits of the TPL7407L:
--  Highest drain current: With 600 mA per channel, the TPL7407L offers 20 percent better drain current to drive higher power, reducing the number of relay drivers required per board.
--  Highest power efficiency: Supports energy-efficiency in high-voltage systems, reducing power dissipation by 40 percent compared to Darlington arrays.
--  Pin-to-pin compatible with traditional arrays: Replacing existing arrays with this power-efficient device eases system design and frees power budget.
--  Full temperature range: Tested and compatible with the full -40C to 125C temperature range for harsh environments within industrial, automotive and telecommunications applications.
Availability, packaging and pricing
The TPL7407L is available in 16-pin SOIC and TSSOP packages. Suggested retail pricing in 1,000-unit quantities starts at US$0.40. The TPL7407LEVM is also available for US$49.00, providing an easy way to evaluate device performance and operating characteristics.
Learn more about TI's relay driver portfolio:
--  Read Upgrading the standard: a better way to drive peripherals
--  Order samples of the TPL7407L.
--  Watch a video on how to reduce power in your system using the TPL7407L.
--  Support is available on the Industrial Interface Forum in the TI E2E(TM) Community, where engineers can search for solutions, get help, share knowledge and solve problems with fellow engineers and TI experts.
About Texas Instruments
Texas Instruments Incorporated (TI) is a global semiconductor design and manufacturing company that develops analog ICs and embedded processors.  By employing the world's brightest minds, TI creates innovations that shape the future of technology.  TI is helping more than 100,000 customers transform the future, today.  Learn more at
www.ti.com
.
Trademarks
TI E2E is a trademark of Texas Instruments. All registered trademarks and other trademarks belong to their respective owners.
CONTACT: Lindsey Starnes, Texas Instruments, 214-480-6500,
lindsey@ti.com