Product News: Computer Hardware & Peripherals
Networking System supports Intel® Atom(TM) C2000 processors.
Press Release Summary: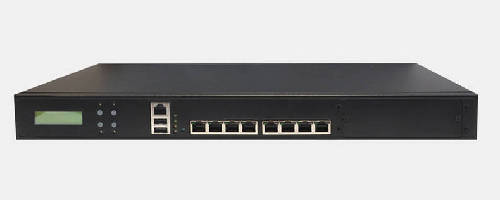 August 14, 2014 - Designed for network service applications, 1U rackmount Model PL-80610 utilizes Intel® Atom™ C2000 processors yielding 1.70, 2.0, and 2.40 GHz in dual- and quad-core packages. Unit supports Intel® AES New Instructions, Intel® QuickAssist Technology, and Intel® Streaming SIMD Extension for hardware accelerated data encryption and decryption. Providing up to 15 GbE ports via PCIe on front-panel, platform supports 4 DDR3 1,333/1,600 MHz unbuffered ECC or non-ECC DIMM sockets up to 16 GB of memory.
WIN Enterprises, Inc. - North Andover, MA
Original Press Release
1U WIN Enterprises Networking Platform with Intel Atom C2000 Processor Features Robust Security
Press release date: August 12, 2014
NORTH ANDOVER, MA, -- WIN Enterprises announces the PL-80610. The new device, a 1U rackmount hardware platform designed for network service applications, supports the next generation Intel® Atom™ Processor C2000 product family (codenamed Rangeley). The choice of three high performance, low-power SoCs yielding 1.70, 2.0, and 2.40 GHz in dual- and quad-core packages is expandable to include other Atom C2000 processors with special order. Robust security features include support for Intel® AES New Instructions (Intel® AES-NI), Intel® QuickAssist Technology and Intel® Streaming SIMD Extension (Intel® SSE) for hardware accelerated data encryption and decryption. Intel QuickAssist technology provides hardware level cryptographic acceleration. Off-loading compute-intensive security tasks provides additional processing power for higher layer packet processing by the CPU. Available now the PL-80610 is the ideal platform for system integrators (SI), electronic OEMs and software developers that provide networking and network security solutions the Enterprise, SMBs, and remote/satellite offices. Typical applications include network intrusion prevention and detection, unified threat management (UTM), spyware control, and content filtering.
Features
Supports Intel 22nm Atom C2000 processors (codename Rangeley), FCBGA
OEM-customizable to support other Intel Atom C2000 processors, including 8-core packages
Max 16GB Dual-Channel DDR3/L 1333/1600MHz
Max 15 GbE Copper ports via PCI-e x4/x1
Supports optional Fiber port, up to 8 Ports
Features Intel® QuickAssist for Cryptographic Hardware Acceleration
The platform supports four DDR3 1333/1600MHz unbuffered ECC or non-ECC DIMM sockets up to 16GB of memory. The device supports 2.5"/3.5" SATA 3.0 6Gbps hard drives and CompactFlash™. A flexible 8 GbE to 15 GbE Ethernet ports are provided via PCIe on the front-panel. To prevent network problems during any unexpected shut downs, PL-80610 supports three segments of LAN bypass function through WDT and GPIO pin definitions. For local system management, maintenance and diagnostics; the front panel is equipped with dual USB 2.0 ports, one RJ-45 console port and LED indicators to monitor power and storage device activities. The PL-80610 has a PCIe X8 slot to support a range of Ethernet expansion modules.
About WIN Enterprises
WIN Enterprises is an ISO 9001 certified product development company that designs and manufactures customized x86-based embedded systems and motherboards. Founded in 1991, WIN Enterprises develops reference designs for the leading microprocessor companies, as well as customized set-top boxes, rack-mounted appliances, and other electronic products for OEM customers.
WIN Enterprises is an Affiliate Member of the Intel® Intelligent Systems Alliance, a global ecosystem of 200+ member companies that provide the performance, connectivity, manageability, and security developers need to create smart, connected systems.                                              
With facilities in the United States, Taiwan, and China, WIN Enterprises enables cost-effective design, manufacturing, and fulfillment services for corporations around the world. For more information contact WIN Enterprises at +1 (978) 688-2000 or email
sales@win-ent.com
.
Press Contact
John Hill
Director of Marketing
WIN Enterprises, Inc.
Phone: 978-688-2000
E-mail:
johnh@win-ent.com