Product News: Communication Systems & Equipment
Network Communication Security Appliance uses CPU virtualization.
Press Release Summary: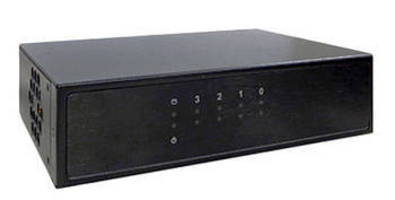 October 30, 2012 - Occupying less than 105 x 148 mm footprint on desktop, CAD-0215 is based on embedded AMD G-Series APU T24L with AMD Virtualization™ (AMD-V™). Solution features AMD64 support for 64-bit OSs and supports 4 Gigabit Ethernet ports, 8 GB DDR III memory, 2 x USB 2.0 ports, CompactFlash slot, and optional 2.5 in. HDD. Consuming less than 25 W, appliance employs system fan that produces less than 35 dB.
American Portwell Technology - Fremont, CA
Original Press Release
Portwell's New Desktop Network Communication Appliance Uses CPU Virtualization to Improve Flexibility and Reduce Costs
Press release date: October 18, 2012
FREMONT, CALIF. – CAD-0215, the latest network communication security appliance from American Portwell Technology, Inc. (http://www.portwell.com/), is a pocket-size (less than 105mm x 148mm) desktop unit based on the low-power embedded AMD G-Series APU T24L with AMD Virtualization™ (AMD-V™) to maximize software investment. The new CAD-0215 appliance features AMD64 support for 64-bit operating systems. The compact appliance also supports 4 Gigabit Ethernet ports, 8GB DDR III memory, 2 x USB 2.0 ports, and a CompactFlash slot and optional 2.5½ HDD.

With its compact footprint, low power consumption of fewer than 25 watts and a system fan that produces less than 35dB of noise, American Portwell's new CAD-0215 appliance is the ideal solution for Intrusion Prevention Systems (IPS), Intrusion Detection Systems (IDS), Firewall, VPN, Load Balancing, WAN Optimization, Unified Threat Management (UTM), IP Routers, Web Security Gateways and as an Application Delivery Controller (ADC) and Wireless LAN Controller (WLC).

The Virtues of Virtualization
According to Oliver Chen, American Portwell Technology's product marketing manager, it is an established fact that virtualization can help increase a data center's flexibility while also increasing the value and capabilities of a company's IT investment because it allows multiple operating systems, applications and user sessions to run simultaneously on a single computing system. "We chose AMD-V because we believe it provides the most benefits and works seamless with our own technology," Chen confirms. "AMD-V provides secure virtual machine (SVM) mode lock and unlock, nested paging and nested page table fault information, LBR virtualization to protect legacy investments and a host of other cost-effective features including eight address space identifiers."

Long Product Lifecycle Support
Frank Shen, American Portwell's vice president of product marketing believes CAD-0215 is flexible enough to provide an effective solution not only for enterprises with large networks but also is an efficient low-cost security solution for small office and home office environments. "Keeping costs down at this stage of a business is an essential ingredient for growth," says Shen, "as is a long product lifecycle. Portwell always designs and develops its products with one eye on the bottom line and the other eye on making things as future-proof as possible. And as always," Shen continues, "our customers not only benefit from the most up-to-date technology and features, but they also gain peace of mind from the long life cycle support inherent with every Portwell product."

Product details: http://www.portwell.com/products/detail.asp?CUSTCHAR1=CAD-0215

About American Portwell
American Portwell Technology, Inc., is a world-leading innovator in the Network Security market and a Premier member of the Intel® Intelligent Systems Alliance. American Portwell Technology designs, manufactures and markets a complete range of communications appliances, embedded computer boards and systems and rackmount systems for both OEMs and ODMs. American Portwell is an ISO 9001:2008, ISO 13485:2003 and ISO 14001:2004 certified company. The company is located in Fremont, California. For more information about American Portwell's extensive turnkey solutions and private-label branding service, call 1-877-APT-8899, email info@portwell.com or visit us at http://www.portwell.com.

All products and company names referred to herein may be trademarks or registered trademarks of their respective companies or mark holders.

Product Contact:
Oliver Chen
Product Marketing Manager
American Portwell Technology, Inc.
510-403-3316
oliverc@portwell.com

Media Contact:
Susan Wei
Marketing Executive
American Portwell Technology, Inc.
510-403-3354
susanw@portwell.com