Network Appliance has Intel QuickAssist support, 16 LAN ports.
Press Release Summary: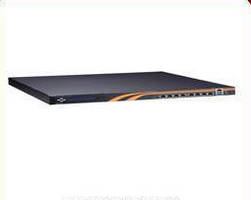 February 14, 2014 - Along with 2 DDR3 1,333 MHz DIMM sockets supporting up to 16 GB storage via ECC and Non-ECC memory types, NA-360 scalable, 1U, rackmount, network appliance system supports range of CPUs and offers 8 Gigabit Ethernet ports and 2 groups of LAN bypass segments. Intel Communications Chipset DH8903CC brings hardware acceleration services for cryptographic and compression/decompression, offloading processor for control and data plane processing. Multiple storage and expansion interfaces are standard.
Original Press Release
Axiomtek's New Intel® Crystal Forest Network Appliance Product with Intel® QuickAssist and 16 LAN Port Capabilities Offers High Performance, Easy Implementation and Great Return on Investment
Press release date: January 29, 2014
Offers High Performance, Easy Implementation and Great Return on Investment
Taipei, Taiwan – Axiomtek, one of the world's leading designers and manufacturers of innovative, high performance and reliable PC-based industrial computer products, announced the arrival of the new network appliance product NA-360. This scalable1U rack-mountable network appliance system  supports a range of CPUs including the single core Intel® Celeron® 725C, the dual core Intel® Pentium® B915, Intel® Core i3-2115C and the high-end Intel® Xeon® processor E3 1105C and E5 1125C. The Intel® Communications Chipset DH8903CC brings additional hardware acceleration services for efficient cryptographic and compression/decompression which offload the processor for control and data plane processing. The standard NA-360 comes with 8 Gigabit Ethernet ports and 2 groups of LAN bypass segments. An easily accessible LAN port module expansion slot allows developers to customize and scale the product based on their solution requirements. The system is flexible and customizable with a PCI Express Mini Card slot and a PCIe x8 slot. Two DDR3 1333 MHz DIMM sockets can provide storage of up to 16 GB and support both ECC and Non-ECC memory types. The network appliance system also offers powerful storage interfaces featuring two 2.5" SATA HDD or one 3.5" SATA HDD and one CompactFlash™ socket.
Axiomtek's NA-360
1U Rackmount Network Appliance with Intel® Celeron® 725C Processor and up to 16 LAN ports
Designed with the ease of implementation as well as accelerated performance in mind, the NA-360 comes with full support for the Intel® Data Plane Development Kit (Intel® DPDK) and Intel® QuickAssist Technology that improves packet processing, encryption and decryption as well as data and file compression/decompression. To enhanced reliability, the NA-360 supports LAN bypass function and features BIOS console redirection. There is a front-facing LCD module activity indicator for convenient monitoring of power and HDD activity. The platform is one of the most advanced high-performance network products in the marketplace that also supports mainstream Linux operating systems. The product is suitable for variety of applications including VPN, firewall and security applications, network bandwidth controller, WAN accelerator and surveillance system
"Axiomtek's outstanding NA-360 network appliance product offers a greater range of processor choices and expansion capabilities that allows developers to configure their network solutions based on performance requirements and price points. It supports a maximum of 16 LAN ports with 6 groups bypass feature, Intel® DPDK, and Intel® QuickAssist for better network performance. The Axiomtek team is also well-equipped with the capability and expertise to help our customers with any customization requirements. We welcome all OEM and ODM projects and are responsive to our customer's questions and requests. Our years of experience allows us to understand our customer needs well and design a product such as the NA-360 with their benefits in mind," said Sophie Tseng, Product Manager at Axiomtek.
The NA-360 will be available in February 2014. For more product information or pricing, please visit us at
www.axiomtek.com
or contact one of our sales representatives at
info@axiomtek.com.tw
.
Advanced Features
l   Integrated with Sandy Bridge Gladden/ Ivy Bridge Gladden processors + Cave Creek chipset. Default is Intel® Celeron® 725C, other processors could be selected by optional requests
l   Two DDR3-1333 DIMM sockets support up to 16 GB none-buffer/non-ECC memory
l   Supports 8 10/100/1000Mbps Ethernet ports
l   2 groups LAN bypass function through latch relay (default)
l   Supports Intel® QuickAssist
l   LAN modules supports copper and fiber (AX93316/AX93322/AX93326/AX93307/AX93317)
l   Supports BIOS redirected to COM port
l   Supports BIOS Quick Boot
l   Suitable for VPN, network bandwidth controller, firewall applications