Product News: Test & Measuring Instruments, Computer Hardware & Peripherals
Network Analyzer supports automatic fixture removal option.
Press Release Summary: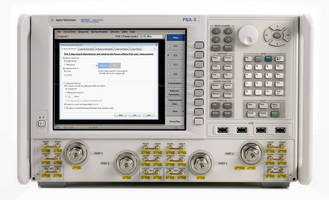 May 29, 2014 - PNA Series network analyzers support automatic fixture removal (AFR) option, which provides error-correction technique that facilitates accurate measurement of non-coaxial devices. Through 5-step wizard that guides engineer, AFR option provides accelerated and accurate means of removing fixture effects from non-coaxial device measurements. De-embed files can be saved in various formats for later use in PNA, PLTS, and Advanced Design System software.
Original Press Release
Agilent Technologies' Automatic Fixture Removal Option Enables Industry's Fastest, Easiest Non-Coaxial Device Measurement
Press release date: May 20, 2014
SANTA CLARA, Calif. — Agilent Technologies Inc. (NYSE: A) today announced the availability of a powerful new automatic fixture removal (AFR) option for its PNA Series network analyzers. Previously available only in Agilent's Physical Layer Test System (PLTS) software, the error-correction technique is the industry's fastest, easiest way to accurately measure non-coaxial devices, saving engineers time and money.

Many of today's devices do not have coaxial connectors and are put in fixtures to measure them in a coaxial environment. However, accurate removal of the fixture's effects is required to obtain a good measurement of the device-under-test. While EM simulation software modeling or multiple calibration standards fabricated on board can be used to characterize and remove a fixture, such approaches are complicated and time-consuming.

Agilent's new AFR option for the PNA provides engineers a faster, more accurate way to remove fixture effects from non-coaxial device measurements. A powerful five-step wizard quickly guides the engineer through the necessary steps. De-embed files can be saved in a variety of formats for later use in PNA, PLTS and Advanced Design System software.

Using the AFR option, the engineer must first calibrate in coax with the reference planes at the inputs to the fixture. Then, one or more standards designed as a replica of the fixture's 2-port thru or fixture half terminated with an open or short are measured. Even faster fixture de-embedding is possible with one-port AFR. In this case, the actual fixture is measured before the DUT is installed for the open standard. The AFR option then automatically characterizes and removes the fixture from the measurement. This one-port AFR capability is also now available in the PLTS software.

"While the accuracy of our new AFR option is comparable to on-board TRL calibration, it is significantly easier to accomplish," said Steve Scheppelmann, marketing manager of Agilent's Component Test Division. "For microwave engineers new to AFR, that means they no longer have to perform complicated EM simulations or build on-board calibration kits to accurately correct for fixture effects. Signal integrity engineers already familiar with AFR will also benefit by saving even more time with the option's one-port capability."

U.S. Pricing and Availability

Agilent's new AFR option (Option 007) for the PNA Series network analyzers is available now at a price of $10,000.

More information about the new AFR option is available at www.agilent.com/find/pna and www.agilent.com/find/AFR007. Photos are available at www.agilent.com/find/AFR007_images.

Agilent's new AFR option will be demonstrated, along with 20 of its newest design and measurement solutions, at IEEE MTT-S International Microwave Symposium 2014 (Booth 1133), June 1-6, in Tampa, Florida. Agilent Partners, co-located around the Agilent booth, will demonstrate solutions for modeling and device characterization; semiconductor foundries; IC, wafer, and PCB design, test, and prototyping; antenna measurement systems and test chambers; and custom systems. In addition, Agilent's Dr. Robert Shimon, an R&D manager in the company's High Frequency Technology Center, will provide insight on "How Digital Markets are Driving Microwave Technology" at the MicroApps Theater on Tuesday, June 3, from 10:05 to 10:45 a.m. Bob Schaefer, R&D manager in Agilent's Component Test Division, will present a paper on AFR titled, "New Calibration Method Simplifies Measurements of Fixtured Devices" at the MicroApps Theater on Thursday, June 5, at 2:05 p.m.

About Agilent Technologies
Agilent Technologies Inc. (NYSE: A) is the world's premier measurement company and a technology leader in chemical analysis, life sciences, diagnostics, electronics and communications. The company's 20,600 employees serve customers in more than 100 countries. Agilent had revenues of $6.8 billion in fiscal 2013. Information about Agilent is available at www.agilent.com.

On Sept. 19, 2013, Agilent announced plans to separate into two publicly traded companies through a tax-free spinoff of its electronic measurement business. The new company is named Keysight Technologies, Inc. The separation is expected to be completed in early November 2014.

Contact:
Janet Smith
Americas
+1 970 679 5397
janet_smith@agilent.com
Twitter: @JSmithAgilent