Nanoparticle Tracking/Analysis Systems offer optimized software.
Press Release Summary: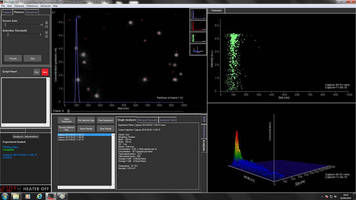 July 23, 2014 - NanoSight NS300, LM10, and NS500, using Nanoparticle Tracking Analysis (NTA), characterize 10–2,000 nm nanoparticles in solution. Driving system functionality, NTA v3.0 software provides usability-optimized interface that facilitates and accelerates access to programs and protocols. Software also incorporates high-resolution particle size distribution algorithm, offers vibration correction, and supports advanced image analysis as well as particle detection and tracking.
Malvern Instruments Ltd - Malvern Worcestershire, GBR
Original Press Release
New Software for Malvern's NanoSight NTA Systems Improves User Experience and Enhances Performance
Press release date: July 17, 2014
Malvern, UK:  Malvern Instruments has launched NTA 3.0, a new version of the software that drives its NanoSight Nanoparticle Tracking Analysis (NTA) systems. With an improved, easy-to-use interface, the new NTA 3.0 software makes accessing programs and protocols quick and convenient. It also incorporates an upgraded high-resolution particle size distribution algorithm, and supports advanced image analysis, particle detection and tracking, as well as providing improved vibration correction. The new software is designed for use across the complete NanoSight NTA range and will be integral to all new systems shipped, while existing users can download their free upgrade via the appropriate product page on the Malvern website:
NanoSight NS300
www.malvern.com/ns300sw
NanoSight LM10
www.malvern.com/lm10sw
NanoSight NS500
www.malvern.com/ns500sw
Malvern NanoSight systems use Nanoparticle Tracking Analysis (NTA) to characterize nanoparticles in solution in the size range 10 nm to 2000 nm (depending on the sample). Each particle is analyzed individually by direct observation and measurement of diffusion events. This particle-by-particle methodology produces high resolution results for particle size distribution and concentration, while visual validation provides additional data confidence. Both particle size and concentration are measured, while a fluorescence mode provides differentiation of labeled or naturally fluorescing particles.
NTA 3.0 features automatic, integrated hardware detection and communication for all the systems in the NanoSight range. Compared with previous versions it generates fewer files per experiment and results are displayed on clear, concise spreadsheets. Particle size distributions are shown as histograms for easy interpretation.
NanoSight NTA systems are part of Malvern's expanding portfolio for characterization at the nanoscale. By updating software for greater ease of use and more efficient testing, NanoSight NTA users can be sure of getting the best possible performance from their system. Visit the Malvern website for details or to download:
NanoSight NS300
www.malvern.com/ns300sw
NanoSight LM10
www.malvern.com/lm10sw
NanoSight NS500
www.malvern.com/ns500sw
Malvern, Malvern Instruments, NanoSight are registered trademarks of Malvern Instruments Ltd
About Malvern Instruments
Malvern provides the materials and biophysical characterization technology and expertise that enables scientists and engineers to understand and control the properties of dispersed systems. These systems range from proteins and polymers in solution, particle and nanoparticle suspensions and emulsions, through to sprays and aerosols, industrial bulk powders and high concentration slurries. Used at all stages of research, development and manufacturing, Malvern's materials characterization instruments provide critical information that helps accelerate research and product development, enhance and maintain product quality and optimize process efficiency.
Our products reflect Malvern's drive to exploit the latest technological innovations and our commitment to maximizing the potential of established techniques. They are used by both industry and academia, in sectors ranging from pharmaceuticals and biopharmaceuticals to bulk chemicals, cement, plastics and polymers, energy and the environment.
Malvern systems are used to measure particle size, particle shape, zeta potential, protein charge, molecular weight, mass, size and conformation, nanoparticle size and count, rheological properties and for chemical identification, advancing the understanding of dispersed systems across many different industries and applications.
Headquartered in Malvern, UK, Malvern Instruments has subsidiary organizations in all major European markets, North America, Mexico, China, Japan and Korea, a joint venture in India, a global distributor network and applications laboratories around the world.
www.malvern.com
Facebook: MalvernInstruments
Blog:
www.materials-talks.com
Youtube: malverninstruments
Linked-In: malvern-instruments
Twitter:
malvern_news
Google +:
https://plus.google.com/+malvern
For press information, please contact:
Trish Appleton 
Kapler Communications                          
Phoenix House, Phoenix Park
Eaton Socon, Cambridgeshire, PE19 8EP, UK
Tel: +44 (0)1480 471059 
Fax: +44 (0)1480 471069 
trish.appleton@kapleronline.com
USA contact:
Marisa Fraser
Malvern Instruments Inc.
117 Flanders Road
Westborough, MA 01581-1042  USA
Tel:  +1 508 768 6400
Fax: +1 508 768 6403 
marisa.fraser@malvern.com
Please send sales enquiries to:
Alison Vines
Malvern Instruments Ltd
Enigma Business Park, Grovewood Road
Malvern, Worcestershire WR14 1XZ  UK        
Tel: +44 (0) 1684 892456
Fax: +44 (0) 1684 892789
salesinfo@malvern.com
www.malvern.com